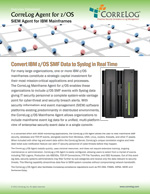 ...we are the only vendor with a mainframe event log collector that can send data to any SIEM system in real time, with encryption and authentication...
Naples, FL (PRWEB) October 31, 2012
CorreLog, the leader in software solutions for IT security event correlation, today announced that the newest version of its CorreLog Agent for IBM z/OS is now generally available. The new release, version 5.1.6, incorporates SSL and TLS support for server authentication and data encryption. In addition to real-time mainframe security alerts for TSO Logons, job ABENDS, TCP/IP connections, FTP and DB2 access, IT security administrators now have the capability to receive mainframe security data with server authentication and encryption.
"SSL and TLS support for the mainframe agent gives IT security managers the added comfort of knowing that 1) their server isn't getting hijacked, and 2) the data is encrypted and authenticated," said George Faucher, CorreLog President & CEO. "This is essentially the same technology that protects you when you are doing online banking."
The CorreLog Agent for IBM z/OS enables organizations to correlate mainframe security events with security events from Windows, Linux, UNIX, routers, firewalls, and other devices that generate a log, and instantly notify the appropriate personnel of a potential security threat. The SSL and TLS support for the agent leverages existing IBM z/OS code, which is key for adhering to the compliance standards of the U.S. Bureau of Industry and Security. Additionally, this layer of security helps maintain a compliant decryption environment as outlined by the PCI Security Standards Council.
"We believe that we are the only SIEM (security information and event management) vendor in the market with an IBM mainframe event log collector that can send data to any SIEM system in real time, with encryption and authentication," Faucher added. "Every retailer and financial institution that relies on mainframe technology for credit card processing needs this ironclad solution in their IT environment."
The CorreLog Agent for IBM z/OS installs quickly, uses minimal resources, and does not require extensive training, ongoing maintenance or administration. CorreLog z/OS Agent is easily configured, allowing users to select from a myriad of events including TSO Logons, Production Job ABENDs, TCP/IP Connections, FTP File Transfers, CA Top Secret, ACF2, and DB2 accesses. Out of this event log data, security systems administrators may filter further by sub-categories and receive only the data relevant to security threats. This filtering capability streamlines data flow to SIEM system consoles without compromising network bandwidth.
For more information on the CorreLog Agent for IBM z/OS, please click here.
About CorreLog:
CorreLog, Inc. is the leading independent software vendor (ISV) for IT security log management and event correlation. CorreLog's flagship product, the CorreLog Enterprise Server, combines log management, Syslog, Syslog-NG, SNMP, auto-learning functions, neural network modeling, proprietary semantic correlation, automated help-desk ticketing and reporting functions into a unique multi-platform security solution. CorreLog Enterprise Server operates across Windows, UNIX, Linux and mainframe platforms, shipping with an out-of-box PCI DSS compliant CorreLog agent for IBM z/OS, the world's most popular mainframe operating system.
CorreLog delivers an essential viewpoint via dashboard console, providing verifiable and actionable information on the activity of users, devices, and applications to proactively meet organizational SLAs and regulatory requirements. Additionally, CorreLog automatically identifies and responds to any suspicious behavior, network attacks, or policy violations by indexing and correlating user activity and event logs, then archives the data in an enterprise server system location. This allows customer organizations to quickly identify then proactively respond to compliance violations, policy breaches, cyber-attacks and insider threats. For auditing and forensics, CorreLog facilitates regulatory requirements set forth by PCI DSS, HIPAA, SOX, FISMA, NERC, NCUA, and many other standards. CorreLog markets its solutions through both direct and indirect partner channels.