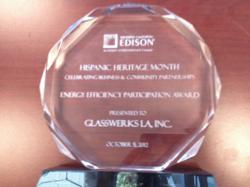 South Gate, CA (PRWEB) October 31, 2012
Glasswerks Inc. -- a leader in commercial and architectural glass fabrication -- was recently honored by Southern California Edison (SCE) for its use of energy-saving technology.
Glasswerks LA participated in SCE's customized and Express Solutions program, and installed energy saving technology that saved 742,913 kilowatt hours annually.
Glasswerks LA was one of two Southern California companies chosen to receive the Energy Efficiency Participation Award at SCE's Energy Education in the City of Industry this fall. The event was billed as "a celebration of business and community partnerships" during National Hispanic Heritage Month (September 15-October 15, 2012).
"Diversity and energy efficiency have always been at the heart of what we do," says Ed Rosengrant, Vice President of Sales and Marketing at Glasswerks. "We were thrilled to partner with SCE to take our energy savings to the next level."
Founded in 1979 by Ruben Huerta, Randy Steinberg and Ed Rosengrant, Glasswerks Inc. has been a model for diversity and energy efficiency in California, and now in Pennsylvania, Texas, Ohio, North Carolina and Iowa.
About Glasswerks Inc.
Glasswerks Inc. is a leading commercial and architectural glass fabricator headquartered in South Gate, California. Glasswerks Inc. produces architectural glazing products, glass furniture, mirrors and decorative glass; specializing in the production and fabrication of laminated, tempered, insulated, bullet-resistant, hurricane-resistant, and high performance low-e glass products. Born out of the competitive construction landscape of Los Angeles in 1979, Glasswerks Inc. operates from eight U.S. facilities located in Southern California, Texas, Ohio, Pennsylvania and North Carolina . Catalina Tempering and Avalon Glass & Mirror are subsidiaries of Glasswerks Inc. Visit http://www.glasswerks.com for more information.