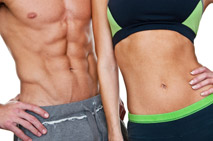 The biceps can be exceedingly difficult to effectively engage.
Chicago, IL (PRWEB) October 31, 2012
Chunk Fitness knows the value of having the proper resources at your disposal when creating a workout routine. For this reason, they created a library of bicep exercises. This is not the average fitness library; this resource provides extensive guides on each exercise that is listed, a muscle chart to illustrate the other muscle groups involved in the exercise, a video demonstration, tips on how to maximized the effectiveness of the exercise, and a list of related exercises.
Fitness websites are not new to the Internet but Chunk Fitness brings a new approach to this market. Michael Lepore, founder and CEO of Chunk Fitness says: "The number one reason why we started this website was because we didn't like what we were finding out there. There was a lot of bad information coupled with terrible presentation which leads to confusion and frustration. The biceps can be exceedingly difficult to effectively engage. Using our guides and videos, one can understand the subtle nuances that body builders have been using for years to increase overall bicep size and strength."
For those looking to build up their biceps, check out the bicep section of Chunk Fitness and give some of the available bicep exercises a try. Each exercise comes with a written description as well as a video demonstration of how to properly execute it.
About the Company: Chunk Fitness was founded in 2010 on the principle that information about exercise and fitness should be available for everyone, not just one select group of people. This information is presented in a clear and non-partisan fashion. Chunk Fitness is a direct result of personal confusion and dissatisfaction with what was currently available on the Internet in regards to exercise and its related fields of nutrition. For more information, visit http://www.chunkfitness.com.