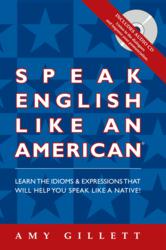 Idioms are fun to learn ... Fortunately, the English language is brimming with them.
Ann Arbor, MI (PRWEB) October 31, 2012
Language Success Press, a publisher of accent reduction and ESL books, has just released a list of 13 American English idioms and expressions related to Halloween. Each of the idioms on the list, which can be found on the Language Success Press blog, is designed to spook, containing words such as skeleton, scared, and haunt.
Language Success Press specializes in materials for English language learners. In addition to offering books, CDs, and mobile apps for business English and accent reduction, the publishing company also specializes in American English idioms and expressions. This includes the company's bestselling Speak English Like an American series written by Amy Gillett. "Idioms are very tricky for English language learners, so they can end up being spooked by them," explains Ms. Gillett. "Idioms work as groups of words, not as individual words. When one translates each word in an idiom on its own, one misses the meaning and in many cases end up with nonsense."
Let's take one of the idioms from the Language Success Press Halloween list: like a bat out of hell, as in: "That car pulled out of the parking lot like a bat out of hell." If a language learner tried to take it apart, he or she would stumble right away over the word "bat," wondering what a small black mammal that's known for hanging upside down has to do with a car. Then there's the word "hell" to try to understand in this context. Ms. Gillett says the trick here is learning the expression as a whole piece. Once you've learned the expression, you'll process it mentally as an entire piece, or chunk, the next time you read or hear it. Linguists calls this process "chunking" and is has been proven very effective in language learning.
Ms. Gillett's books each provide 300 American English idioms and expressions in context, along with definitions and usage examples. Three of the books in her Speak English Like an American series cover everyday English, including the recent release "Speak English Around Town." Two books in the series focus specifically on business English: "Speak Business English Like an American" and "Speak Better Business English and Make More Money."
While idioms can be tricky for non-native English speakers, Ms. Gillett explains that they are a key part of gaining fluency in English. "Idioms add color to the language. They make it come alive. They make English as a Second Language speakers' speech sound more natural and less foreign."
So, when it comes to learning American English idioms, don't give up the ghost. That means don't stop trying (see #13 on the Halloween expressions list). "Idioms are fun to learn and fun to practice," says Ms. Gillett. "Fortunately, the English language is brimming with them."
About Language Success Press
Language Success Press is a publisher of books, CDs, and mobile apps to help people speak better conversational American English. The company specialties include books and CDs for accent reduction, business English, and everyday English. Founded in 2002, the company now has customers in 40 countries around the world. To order books and CDs from Language Success Press and to find out more about its ESL apps, please visit the company's website. For more information or to arrange an interview with author Amy Gillett, contact Tanya Peterson at Language Success Press: Tanya(at)languagesuccesspress(dot)com
###