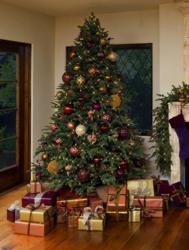 The redesigned site's customer-friendly interface reflects the brand's adherence to elegance and sophistication.
San Mateo, CA (PRWEB) October 31, 2012
To celebrate one of the most frighteningly entertaining events in the country, Balsam Hill™, a leading source of upscale artificial Christmas trees, presents a redesigned website in time for Halloween. The website features a wider design aimed at creating a user-friendly interface rooted in customer satisfaction, ensuring seamless transactions during the busy holiday season.
"Due to the wider design, we are able to better highlight the beauty and quality of each of our products just in time for our Halloween Christmas Tree Sale. The redesigned site's customer-friendly interface reflects the brand's adherence to elegance and sophistication," says Balsam Hill™ CEO Thomas Harman.
With Halloween so close to the rush of the Christmas season, Balsam Hill's launch of its redesigned website has come just in time for customers to get a head start on their holiday shopping. One of the more exciting features added to the site is its newly implemented attribute based filtering, allowing customers to hone in on specific product attributes of their choice, such as "Height," "Shape," and "Light Color." Customers can now easily filter for 7 foot artificial Christmas trees, or any other tree of their choice. The site's checkout process is also being updated, so that it will be ready to support the rush of online Christmas shoppers looking for Christmas decorations or unlit and prelit Christmas trees.
"Halloween is a popular family-themed event that primes everyone for the beauty of the Christmas season. We at Balsam Hill treasure that familial experience. We want to ensure that shopping on our site is as convenient as possible, giving our customers more time to celebrate the holidays with their families," says Harman.
For more information, please visit http://www.balsamhill.com.
###
About Balsam Hill™
The mission of Balsam Hill is to create the highest quality artificial Christmas trees, wreaths, and garlands ever produced. The Balsam Hill team is passionate about developing realistic, premium prelit Christmas trees for a more festive -- and convenient -- holiday season. Based in Redwood City, California, Balsam Hill designs all of its own trees, which are available exclusively online through http://www.balsamhill.com.