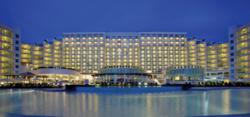 (PRWEB) October 31, 2012
Halloween is already here and it may already be too late score a travel deal over the Thanksgiving and Christmas holidays. If you're just going online and searching for peak holiday weekend travel days, you could be paying a serious premium. Luckily, smart travelers can find a way to make it home for the holidays, score a beach vacation and avoid those seasonal mark ups.
This year, PeterGreenberg.com is your go-to resource for all your holiday travel. In addition to expert travel advice and seasonal deals, every Friday we're running a new "Holiday Travel: How to Series" to show you how fly home for less, holiday hotel booking, where to find free Wi-Fi, how to minimize data bills, how to survive a long holiday drive, and more. Ready to book now? Here are four insider travel tips from Petergreenberg.com.
1. Travel in the Off Season
If you're traveling for leisure this summer, pack a coat and get ready for some culture. It's the off-season in colder climates but not for museums, theater and restaurants. Montreal has winter sports, its own ice village and the famous Montreal en Lumiere festival. Book a 2-night minimum stay through December 31, 2012 and get half off the second night, plus transit tickets and a coupon book with discounts worth up to $200. Or think Iceland: You can fly to Iceland from Boston from just $555 on Icelandair, or continue on to Europe with a stopover in Reykjavik. Head to Chicago which is teeming with museums, restaurants and winter events. Hotel occupancy last December was just 55.4 percent, meaning you get to avoid the crowds. Go in early February, and you can take advantage of the great deals at Chicago's Restaurant Week.
2. Pick Your Dates
All November and December travel dates are not the same. Rates vary wildly from day to day and you'll find the greatest savings if you travel on the actual holidays—Thanksgiving Day, Christmas and Christmas Eve offer the most savings. Remember, turkey tastes good any time of day. If you're traveling for leisure, then look to travel during that "dead week" between Thanksgiving and Christmas for maximum savings.
3. Find a Real Travel Deal
Many packages are called "deals," but it pays to read the fine print. Free hot chocolate doesn't make a deal. Look for how much you are saving on the room rate and then look for additional value adds. Remember to use all your resources when looking for a deal. From flash sales to Twitter promotions, offers come in hourly. If you need help weeding them out, PeterGreenberg.com reviews all the offers and publishes the day's best in the Daily Deal feature.
4. Look for Freebies
It's nice to score a deal, but the best deals are actually free. This week, it's your last chance to enter two sweepstakes giveaways. First, you have until November 2 to win Air Tahiti Nui's Fan Experience Awards and win a free trip to Tahiti. And act fast, Peter Greenberg's Fall Sweepstakes is live just until November 1. One lucky person can win the Grand Prize: a 4-night, all inclusive stay for two at the Hard Rock Hotel Cancun with $500 airfare credit and a 30-minute massage.
To enter the sweepstakes, simply sign up for PeterGreenberg.com's daily e-newsletter, which has the latest travel news and tips as well as the live sweepstakes link.