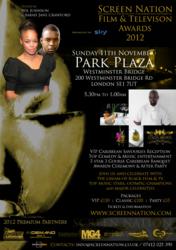 For the first time 'David Is Dying' is nominated for awards in the UK.
LONDON (PRWEB) October 31, 2012
Screen Nation has been at the forefront of acknowledging the best in Black British talent for over seven years. Founded by renowned film producer, Charles Thompson MBE, its primary aim is to acknowledge the achievements of those within the industry over the course of 12 months.
The Screen Nation Foundation comprises of black British film and television professionals from all within the UK including actors, writers, directors and producers. Designed to empower and encourage diversity within the motion picture and audio-visual industries, The Foundation primarily agrees on the annual list of categories and nominees via a committee vote.
The multi-award winning, psychological drama, 'David Is Dying'('DID') has been nominated for a total of three Screen Nation awards. Writer, director and executive producer of 'DID', Stephen Lloyd Jackson has been nominated for two Screen Nation awards; 'Emerging Talent' and 'Independent Spirit Film Production'. Whilst, Lonyo Engele, star of 'DID' has been nominated for the Screen Nation's prestigious 'Male Performance in Film' award.
After winning no less than seven international film awards and a 'Focus On Filmmakers Honoree' which was presented to Jackson at the 6th Cleveland International Film Festival, Screen Nation Film & Television Awards is the first UK nomination for the Britflick 'David Is Dying'.
'David Is Dying' is now available to buy on dvd, exclusively online from Amazon.com and Createspace. It will be available on Amazon.co.uk and other European Amazon online channels in November 2012.
The 8th Screen Nation Film & Television Awards will be held on the 11th November 2012 at the Park Plaza, Westminster Bridge, London.