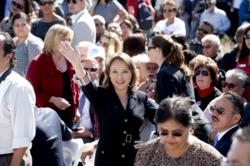 It was an honor to be there with the President to honor one of California's greatest civil rights icons--Assemblywoman Mary Hayashi
Keene, CA (PRWEB) October 30, 2012
Assemblywoman Mary Hayashi (D-Hayward) joined with President Barack Obama in announcing the establishment of the César E. Chávez National Monument in Keene, California earlier this month.
"It was an honor to be there with the President to honor one of California's greatest civil rights icons," stated Assemblywoman Mary Hayashi. "César Chávez was a courageous American hero who stood up against injustice, leading the poor and disenfranchised to be empowered agents of change. He led by example, making tremendous personal sacrifices to fulfill a dream of a better life for farm workers. This National Monument recognizes his contributions and will inspire future generations to work for the greater good."
Under the 1906 Antiquities Act, the President designated parts of Nuestra Señora Reina de La Paz as the César E. Chávez National Monument. Located in California's Central Valley, La Paz is famous for serving as the national headquarters of the United Farm Workers, and was the home of César Chávez from the early 1970's until his death in 1993.
The César E. Chávez National Monument encompasses property at La Paz that includes its Visitors' Center, the home of César and Helen Chávez, the Chávez Memorial Garden, which holds Chávez's grave site, and additional structures. The dedication marked the President's first official visit to the San Joaquin Valley.
Assemblywoman Mary Hayashi serves the 18th Assembly District, which includes San Leandro, Hayward, Dublin, most of Castro Valley and Pleasanton, and a portion of Oakland, as well as the unincorporated areas of Ashland, Cherryland, San Lorenzo and Sunol.