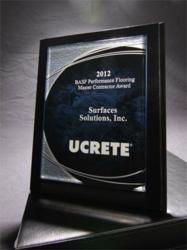 We are always happy to recommend Ucrete flooring to our customers. We always know we're going to get good results- we've installed Ucrete is some pretty harsh facilities and are confident it will perform extremely well for our customers
Indianapolis, IN (PRWEB) October 31, 2012
It takes a great deal know-how to become a BASF Ucrete Master Contractor. Surface Solutions Inc., an Indianapolis based industrial flooring contractor knows what it takes to earn such an achievement. In fact, Surface Solutions was the largest consumer of Ucrete products in 2011, installing over 300,000 sq/ft of Ucrete material in 2011. As a company Surface Solutions has installed over 1 million square feet of BASF/Ucrete floors nationwide.
Only contractors with the highest level of expertise and volume achieve Ucrete Master Contractor Status. Surface Solutions prides itself on not only attaining this prestigious designation, but doing so as the highest volume contractor among this select group of experts.
Ucrete urethane concrete industrial flooring surfaces are ideal for high traffic industrial facilities and the harsh conditions found in food production environments. Ucrete bonds well to substrates, much better than epoxy coatings. Among Ucrete's many benefits over epoxy surfaces:

Impact resistance
Chemical resistance
Resistance to thermal shock
Ability to withstand moisture. Ucrete will hold up to 12,000 lbs. of moisture in 24 hours while epoxy is limited to only 3000 lbs.
No priming required
May be installed over new concrete surfaces within 7-10 days. Epoxy coatings require a 28 day waiting period prior to application.
About Surface Solutions
Surface Solutions is an independent industrial floor contractor specializing in seamless, polymer flooring systems. From epoxy flooring systems for the manufacturing industry to urethane concrete flooring systems (BASF UCrete) for the food and beverage industry to MMA (Dur-A-Flex Cryl-A-Flex) for the pharmaceutical industry, Surface Solutions utilizes the most advanced materials and the most trusted brands in the industry.