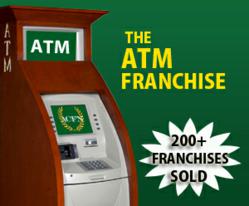 Unlike other small business franchise opportunities, an ATM business can be operated by working only few hours a week.
San Jose, CA (PRWEB) October 31, 2012
ACFN, a leading provider of ATMs focused on the entertainment and hospitality industry mainly, has been selected as an Entrepreneur magazine's fastest growing company. ACFN ranked number one in the misc. financial service category for the year 2012 after being ranked number two for the year 2011. In addition to the Entrepreneur's Franchise 500®, ACFN has also been recognized by the Franchise Times as Top 300 Franchise Systems for 2012 and by the G.I Jobs as Military Friendly Franchises for the years 2010,2011 and 2012.
"Year over year recognition by such prestigious publication shows the strength and efficiency of our business model, our team and our innovative approach to the market," said Avi Blankroth, Executive Vice President at ACFN. "And the result is that we have just past the 210 franchises mark as of this month."
Founded in 1996 and franchised in 2003 ACFN, has been offering franchise opportunities throughout the US and Canada where people can start it as a home based small business and grow it with ACFN's assistance into a highly profitable enterprise with a long term residual income.
It also allows an individual to own an ATM business without hiring any employees, opening an office or investing thousands of dollars in marketing. "Unlike other small business franchise opportunities, an ATM business can be operated by working only few hours a week," explained Turker Sus, Franchise Development Manager at ACFN, the ATM Franchise business.
ACFN allows its franchises to grow organically or by acquiring an established ATM route. Company publishes profitable ATM businesses for sale on its website targeting entrepreneurs looking for a small franchise business in their area. Prospective franchisees can find an established ATM portfolio in areas like San Francisco Bay Area, Moline, Rock Island, Birmingham AL, Manchester NH, Indianapolis IN, Bangor, Maine and Connecticut. In major metropolitan areas like San Francisco Bay Area, buyers can also customize their portfolio by picking 5, 10, 15, 20, or more established ATMs as part of their ATM Franchise business. This option has became a very attractive feature of their newly released Northern California ATM Portfolio. In other words, new franchisees wanting to start an ATM business in Northern California can choose to make a net profit of $30,000, $50,000, $100,000 or $150,000 per year, depending upon how many ATMs are included in the route. Similar opportunities are also available in other areas.
"Our marketing team is the key reason behind our steady growth during last ten years," stressed Mr. Blankroth. They research qualified locations and secure the contract for the placement of new ATMs upon approval from the franchisee. This provides a strong and steady platform for those looking for organic growth of their ATM business.
ACFN currently has limited number of small business franchise opportunities in United States and Canada. Interested buyers can visit the company online or reach them at 1-888-44-2236.
About ACFN:
ACFN is a premier deployer of ATMs in hotels and other travel and entertainment based businesses since 1996. Company was franchised in 2003 and have since been recognized as one of the top franchise companies by many publications including the prestigious Entrepreneur Franchise 500, Inc. Magazine, Franchise Times, Military Times Best Franchises for Vets and AllBusiness.com.