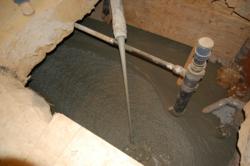 Virginia Beach, VA (PRWEB) October 31, 2012
Concrete Jack's high density polyurethane injection and lightweight cellular concrete installation crews are standing by to pump waterproof void filling materials under undermined structures as a result of Hurricane Sandy.
Tidal inundations and storm surge frequently wash backfill material out from under interior floors of homes and businesses, boat ramps, pool decks and other structures that are flooded. High density polyurethane injection and cellular concrete installation fill voids under undermined structures to resupport the structure, allowing it to return to functional use immediately.
Both high density polyurethane and lightweight cellular concrete are typically used in industrial processes to resupport unsound concrete and other structures, such as bridge approaches, roadways, interior slab floors and concrete parking lots. However, they are excellent for void filling under residential structures too, since voids from tidal inundation are usually deep and extensive.
About Concrete Jack: Concrete Jack is based in Williamsburg, Virginia, and serves Virginia, North Carolina, Maryland, Washington DC, West Virginia and Pennsylvania. Concrete Jack's crews install lightweight cellular concrete, high density polyurethane and sand-based grout, typically referred to as slabjacking. Concrete Jack's experienced crews have installed high density polyurethane (foam jacking), lightweight cellular concrete and sand-based grout (slabjacking) under numerous structures as a result of flooding washing away original backfill material.