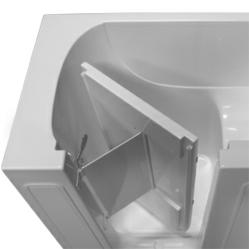 We understand our customers don't always want to wait for their walk in tub or shower, so we've created a 48 hour rush shipping service for projects with time constraints.
Denver, CO (PRWEB) October 31, 2012
Aging Safely Baths, a nationwide supplier of walk in bathtubs and handicap showers, is pleased to offer customers 48 hour rush delivery on numerous bathroom safety products. Customers remodeling bathrooms may find that contractors run ahead of schedule, or some customers may develop unexpected medical conditions that impair their ability difficult to enjoy safe bathing. Sometimes a preexisting medical condition can worsen causing customers to need a walk in tub or step in shower immediately. Aging Safely is excited to be able to offer fast shipping that delivers easy-to-enter bathroom fixtures exactly when customers need them.
Zach Wennstedt, Founder of Aging Safely, said, "The inability to maintain personal hygiene can limit a customer's ability to live independently. Aging Safely wants to provide walk in tubs that let purchasers relax while soaking or enjoy hydrotherapy tubs that can potentially ease aches and reduce inflammation. Fast, immediate delivery will enhance customers' ability to improve their well-being quickly."
The inability to access a tub can cause customers to be dependent on family members or companions for safe bathing. Seniors and mobility impaired individuals may be uncomfortable when they need assistance bathing, and they may feel a sense of lost dignity. Handicap accessible bathroom fixtures or walk in bathtubs can enable them to bathe independently and boost their mental attitude.
Additionally, individuals that are unable to bathe subject themselves to a myriad of potential adverse health affects. Sometimes this can impair their ability to sleep and can lead to other health problems. Furthermore, when customers cannot bathe, they are still touching bedding, food and other essentials that affect their overall health, so fast delivery of walk in tubs or showers can be beneficial.
Aging Safely Baths is concerned about the well being of its customers. The company recognizes that safe bathing is essential for soothing muscles, cleaning the body and maintaining sanitary health conditions that impact daily life. Aging Safely charges a minimal fee for 48 hour shipping, but the company is excited that it can provide customers with fast service that can help make their customers' lives more comfortable and enjoyable.
Customers will have the convenience of tracking the delivery of their walk in tub or shower, and the reliable 48 hour shipping enables them to adjust their schedule for delivery. Forty-eight hour delivery is also convenient when the tub or shower delivery is coordinated around the schedule of a friend or relative who may not live nearby but is visiting the mobility impaired individual for a few days. Aging Safely's recent 48 hour shipping option can provide the perfect solution no matter why a customer needs a walk in tub, step in shower or other handicap accessible bathroom fixture fast.
Contact Information:
Zach Wennstedt
1-888-779-BATH(2284)
info(at)agingsafelybaths(dot)com