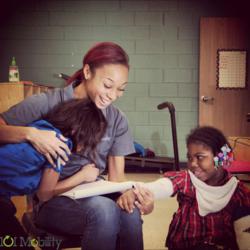 A person who is severely impaired never knows his hidden sources of strength until he is treated like a normal human being and encouraged to shape his own life.
Wilmington, North Carolina (PRWEB) October 30, 2012
The Parade will feature wheelchair and adaptive stroller decorated costumes provided by 101 Mobility ranging from Cinderella in her enchanted 'carriage' to Mario in his speedy 'kart' to a Diva Rockstar in her flashy pink 'limo'.
The children in Ms.Bishop's class are diagnosed with developmental delays, medical conditions and physical disabilities. 101 Mobility and Ms. Bishop's class became connected through Gloria Garton, Executive Director of the Local Disability Resource Center in Wilmington. From there, a 101 Mobility Service Manager and several marketing team members were sent to take measurements and record the smiles from the obviously excited children.
All of the children are non-verbal, but are totally expressive and understood who the 101 Mobility team members were and why they came. As talk of costume possibilities sparked, the children's body language changed, some smiled the biggest smiles you've ever seen and others made shrieks of excitement. As Mrs.Bishop held up a collage of Halloween costumes for five year old Jordan, he would not take his eyes off of the DJ photo. Jordan will be DJ Jazzy Jordan. 101 Mobility's Marketing Director, Joel Brenner, describes meeting the class, "It was a humbling and exciting experience – the kids became attached to us very quickly. I'm glowing with pride to be a part of something so great."
Many of the children in Mrs.Bishop's class would not have the opportunity for Halloween celebration of this magnitude without 101 Mobility's assistance and time. Each costume is so great and detailed in size that they cannot fit into a standard car or bus. Following the Halloween celebration, 101 Mobility staff will volunteer their time to follow behind the SDA-DL bus. At each stop, they will show parents how to properly secure costumes to their child's wheelchair or adaptive stroller for trick-or-treating later that night!
Vanessa Bishop says that despite her students' given conditions and disabilities, they are all intelligent individuals, "… it is about what they can do, not what they cannot do…they can problem solve just as well as the next person."
Ms.Bishop follows an adapted standardized curriculum known as the North Carolina Extended Standards. This means that every child in her class is taking standardized North Carolina tests and must be taught the same subjects as any other child in the same grade. The way that SDA classes differ is that Ms. Bishop along with Peer Educators, Elaine Rogers and Sheila Yokeley must make the curriculum adaptable for each of the students' unique needs by providing them with choices. For one blind student required to learn colors, Ms. Bishop utilized smelly markers for him to match to the color she would name. Ms.Bishops favorite way to describe her SDA classroom is from a Helen Keller quote, "A person who is severely impaired never knows his hidden sources of strength until he is treated like a normal human being and encouraged to shape his own life."
It is certain that society's attitudes towards those living with disabilities are changing for the better. Prior to 1975, students could be denied a public education based on disability. Recently under the No Child Left Behind Act, SDA-DL classes now follow a curriculum aimed to help students with disabilities pass standardized testing each year. Ms. Bishop and Principal Dingwall agree that the program is largely successful due to an outpouring of support from the local community. Support from local businesses like 101 Mobility also make events like the Halloween Parade a possibility.