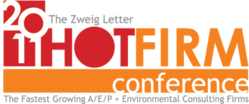 Richland, WA (PRWEB) October 31, 2012
Occupational safety and environmental protection firm Dade Moeller announces its #10 ranking among the top 100 fastest-growing North American architecture, engineering, planning, and environmental consulting firms on The Zweig Letter 2012 Hot Firm List. The list ranks the top 100 participating small and large firms based on a combined equal rating of dollar growth in gross revenue and percentage growth in gross revenue over the past three years. This is Dade Moeller's second consecutive year as a top 10 Hot Firm.
Dade Moeller has demonstrated resilience during the nation's recent economic challenges, increasing its revenue by 148% over the past three years. Employing more Certified Health Physicists [radiation protection scientists] than any other company in the United States, Dade Moeller has upheld its solid reputation in the fields of radiation safety and environmental protection since its founding in 1994 and, more recently, has diversified strategically into the related areas of dosimetry services, medical physics, laboratory instrument calibration, and hazardous materials ("hazmat") training.
"Dade Moeller is a very unique firm that has been extremely successful for many reasons," said Mark Zweig, founder and CEO of ZweigWhite, the industry-specialized research, publishing, and media firm that has compiled the Hot Firm List since 2000. "Not only did Dade Moeller have an amazing, accomplished, charismatic founder (in the late scientist and educator Dr. Dade W. Moeller), the company's strong sense of purpose (saving lives and improving health and safety), combined with its professional management, has led to its ability to grow in an overall stagnant market. Finishing in the top 10 in our Hot Firm competition is a tremendous accomplishment, and I expect them to achieve even more success in the years to come."
In addition to accepting the Hot Firm award for the company, Dade Moeller CEO Matt Moeller was a featured speaker at the 13th Annual Hot Firms Conference and Awards Celebration in Aspen, Colo., on October 24–25, 2012. "It is always exciting, and humbling, to connect with fellow environmental consulting CEOs to share our industry insight, best practices, and forecasts for the future," said Moeller. "Not only did this conference promote the visibility of our successes over the past three years, it also energized our future growth with purposeful new industry contacts and the corresponding list of new opportunities."
About Dade Moeller – Founded in Richland, Wash., near the U.S. Department of Energy's Hanford nuclear site, Dade Moeller is a nationally recognized firm that provides a full range of professional and technical services to federal, state, and commercial clients in support of environmental, nuclear, radiological, and worker safety operations.