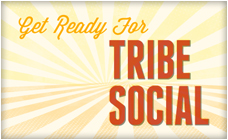 Effective collaboration maximizes the return on your most important investment – people.
Las Vegas, NV (PRWEB) October 31, 2012
Intellum, Inc., a leader in cloud-based learning solutions, is bringing social learning to the enterprise with the launch of its TRIBE Social. TRIBE is a tool designed to save companies time and money with project management, increase employee engagement, share and record expertise, and facilitate file/video sharing. It does all of this in a secure and trusted environment.
"When we were looking around for a new collaborative tool to use internally, we realized that a lot of the tools out there didn't fit our needs. Most of them had simply copied popular consumer social networks and their broadcast and follow paradigm. That's not really what we were looking for in a business tool. We wanted something that helped us focus, instead of distracting us. That's why we built TRIBE around user groups from the very beginning. What we discovered is that forcing conversations into groups is a great way to give context -- it helps organize discussions around a topic or project, and it's perfect for informal learning.", stated Chip Ramsey, CEO and co-founder of Intellum.
TRIBE is seamlessly integrated with Intellum's EXCEED LMS, allowing employees within both instructor-led and self-paced learning assignments to connect with their instructors, designated subject matter experts and other employees within the same assignment.
Additional uses of TRIBE include:

Creating living environments for sales teams where new product information can be uploaded and questions asked by reps out in the field;
Preventing brain drain by transferring knowledge via Executive Mentor Programs; and
Making the most of internal experts by allowing employees to search for other employees with certain skills and then posing their pressing questions.
To keep TRIBE always available, it was designed to be mobile friendly; allowing employees to access content, capture just-in-time updates, and contribute comments on the go.
For more information or to request being a TRIBE Beta Client, visit Intellum in booth 217 at DevLearn 2012 in Las Vegas, October 31 – November 2nd, or visit http://www.intellum.com/tribesocial/.
About Intellum:
Intellum is a privately-held company headquartered in Atlanta, Georgia. Founded in 2000, the company has over 12 years of experience providing innovative, leading-edge software to customers of all sizes and in all industry segments. Intellum's enterprise technology solutions include EXCEED, a learning management system (LMS), and TRIBE, an enterprise social network.