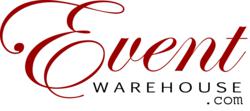 Our clients deserve great deals and we intend to give it to them!
(PRWEB) October 31, 2012
Starting at 12am on Friday, November 23, 2012 and going through the remainder of November, Event-Warehouse.com will be holding its largest sale of the year.
The Event Warehouse has already developed a wide-spread recognition for its offerings of wedding and event supplies at low, wholesale pricing and extremely efficient shipping and delivery times. Now, in an effort to broaden its client base and goodwill amongst current clients, they are offering larger discounts than they ever have prior to this holiday season. The top items to be discounted will be plastic wedding columns, wedding arches, reception tables and chairs and more.
"This has been a record breaking year for us so far and we are super excited to go into this Holiday Season with an 'all out' approach to the Holiday season. Our clients deserve great deals and we intend to give it to them!" says owner Renay Carver. "We have already made it our goal to offer our products at the lowest prices in the industry and have built a reputation doing so. Our Black Friday sale is simply the icing on the cake of a great year and great customers!"
The Event Warehouse, a highly customer service oriented company, specializes in offering wholesale pricing on a wide variety of event and wedding supplies. Many of their top selling items are wedding arches, wedding columns, candelabras and candles, tables, chairs and many other event and wedding supplies.
For more information visit http://www.event-warehouse.com or call direct at 1-800-208-8633.