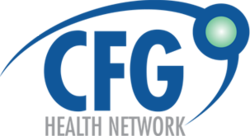 "We are proud of the small but significant improvement that we've collectively brought about to deliver excellent evaluation and care to New Jersey's behavioral health consumers."
-- Les Paschall, CEO of the CFG Health Network
Marlton, NJ (PRWEB) October 31, 2012
Telemedicine is an ever-increasing trend in the medical field. New Jersey-based healthcare company the CFG Health Network is well-known for its innovation in the telehealth field including its successful telepsychiatry branch, InSight Telepsychiatry. Despite the increase in telemedicine's acceptance and usage throughout New Jersey and the nation, the old New Jersey law's universal requirement for original documentation significantly challenged telemedicine's timely effectiveness.
The psychiatric commitment process in New Jersey involves the coordination of a number of professionals including screening psychiatrists, licensed screeners, case managers, judges, and facility administrators. Under New Jersey's very literal interpretation of its psychiatric screening laws, when these parties made a decision regarding the appropriate means of care for a behavioral health consumer, each professional involved on the psychiatric commitment process had to then sign the same original physical paperwork within a 72 hour window.
Given a national shortage of behavioral health clinicians and ever-strained economic resources, parties involved in the commitment process already often work difficult hours on nights, weekends, and holidays.
The equation becomes even more complicated because of the wide use of New Jersey licensed psychiatrists who work remotely as telepsychiatrists often during nights and weekends, conducting live interviews of patients using secure, real-time videoconferencing.
This method, called telepsychiatry is widely used and effective supplement to in-person care as sanctioned by the New Jersey Department of Mental Health. However, this application of telemedicine is hindered by the requirement for "original" paperwork to stay with a patient throughout the commitment process.
In light of today's generally accepted technologies for transmitting documentation electronically, and recognizing the logistical nightmare it was to coordinate couriering time sensitive paperwork at all hours of the day and night, leaders at the CFG Health Network gathered representatives from mental health agencies and hospitals across the state to advocate for change.
These representatives are responsible for the provision of psychiatric emergency screening services and care to individuals facing involuntary commitment. Together, they encouraged a reexamination of the necessity of original documents with multiple physical signatures when making final psychiatric commitment decisions.
After years of waiting, the change was made. Effective August 1, 2012, an amendment to New Jersey Court Rule 4:74 section (b) paragraphs (1) and (2) means that electronic signatures now suffice for clinical screening commitment certificates.
This revision represents a significant improvement to the logistical challenges faced in getting consumers screened and appropriately placed, particularly in the delivery of the psychiatrist's screening certificate.
The law's earlier literal interpretation was a significant barrier to behavioral health consumers receiving timely access to the most appropriate level of care. It had also placed undue stresses on New Jersey's already strained psychiatry screening system.
"I am thrilled by what this means for telemedicine in New Jersey. In today's world electronic signatures just make sense. So many more patients are able to receive timely, placement for high quality care because of this change," said Geoffrey Boyce, director of Telemedicine at the CFG Health Network.
This change in New Jersey go along with national trends towards expanding telemedicine programs to address issues of limited physicians and resources.
"We are proud of the small but significant improvement that we've collectively brought about to deliver excellent evaluation and care to New Jersey's behavioral health consumers," said Les Paschall, CEO of the CFG Health Network.