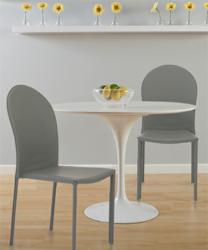 Because we have designers and factories all over the world we can be assured of the right design, and our global sourcing capability makes it possible for us to have the right price. - Trygve Liljestrand, President
San Francisco, CA (PRWEB) October 31, 2012
The beautiful contemporary desks, Diego and Dillon are in high gloss lacquer gray and white. Diva Desk features the pure white glass top and gray lacquered drawer – absolute elegance.
Side chairs, Coco, Maritza, Miranda and Lovie are waiting to put their arms around you. Euro Style holds the distinction of continuously creating new models that convey the essence of high quality design.
Euro Style produces two new collections a year, using modern technology and hi-tech materials, creating beautiful contemporary products made for those who wish to furnish with style and grace. This new Collection is available from Euro Style's California warehouse or by container direct.
Euro Style is a wholesale RTA furniture manufacturing company with factories in Italy and East Asia. The company's high style products are sold at promotional and medium price points.
Retailers can order Euro Style products from the California warehouse or by factory direct consolidated container programs. The company ships out of its Northern California Warehouse the next business day after orders are placed.
Corporate offices are in San Rafael, California; the High Point, North Carolina Show Room is located in the IHFC Building, C354, and the Las Vegas Showroom is located in World Market Center B-601 & B-675.