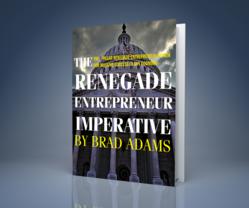 an urgent message...there are 7 steps all entrepreneurs must take to prepare...
Temecula, CA (PRWEB) October 31, 2012
Brad Adams of the Renegade Entrepreneur Group has advised clients that Republican Mitt Romney will unseat President Obama in next week's Presidential election.
While Intrade and other betting outlets still show President Obama as a more than 2 to 1 favorite, Adams says that the Renegade Entrepreneur models show that the mainstream, as usual, has it wrong.
Renegade Entrepreneur is a crusade to provide business owners with cutting edge strategies to take control of their lives and their work.
A large part of the mission of the Renegade Entrepreneur Group is to help level the playing field for small and medium size businesses that regularly have the deck stacked against them. "Most entrepreneurs just don't have access to the same information as the politically connected, and they're too busy working to really do anything about it", said Adams.
Renegade Entrepreneur uses proprietary data and systems to cut through the mass of misinformation.
"While many find comfort as part of the herd, we travel in the opposite direction", said Adams.
Traveling apart from the herd, in this case, means posturing for changes that are to come under a Romney Presidency. Renegade Entrepreneur Group has prepared a free special report detailing the 7 urgent steps entrepreneurs must take now.
Step 1, which is actually applicable whichever candidate wins, is "Batten Down the Hatches". Adams believes an economic contraction is inevitable. "All stops have been pulled out to get President Obama re-elected…from juicing the economy to quantitative easing. With all of the economic accommodation, the economy is still weak. It will get far worse than most people believe possible. We need to be prepared", said Adams.
The other 6 steps are detailed in the concise special report now available to subscribers to the group's free email newsletter –"For Renegade Entrepreneurs Only". The report will be available to new subscribers on November 7.
To sign-up for the SPECIAL REPORT and free email newsletter, please CLICK HERE.
Entrepreneurs who sign up to receive the newsletter will also get a free copy of Adams' book, "The Renegade Entrepreneur Imperative – the 7 Pillar System for Massive Success in Any Economy."
Along with the newsletter and book, Renegade Entrepreneur offers a membership community called the Renegade Entrepreneur Alliance which provides various levels of briefing and counsel to its members.
About Renegade Entrepreneur Group:
Founded by entrepreneur Brad Adams, Renegade Entrepreneur provides business owners with cutting-edge strategies to take control of their businesses and their lives. Adams accepts speaking engagements on a very selective basis. He is pleased to serve as a resource for business media.
For more information about Renegade Entrepreneur Group, please visit http://www.renegadeentrepreneurgroup.com, visit our Facebook page at https://www.facebook.com/EntrepreneurGroup, or call 1 (951) 676-6100, ext 840.