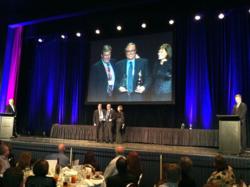 Grand Junction, Colorado (PRWEB) October 30, 2012
Steve Arnhold, Chief Engineer At The DoubleTree By Hilton Grand Junction Hotel, received the Lifetime Achievement Award October 29th given out by the Colorado Hotel & Lodging Association for his 27 years of service in the Colorado hotel industry and specifically his service at the DoubleTree Grand Junction. Steve was nominated for his dedication both to the hotel, its staff and to the guests. Not only does Steve serve the hotel as Chief Engineer, but he multitasks as both Director of Security and Chairman of the Safety Committee. Steve ensures the hotel is in top operating condition while promoting all the benefits and programs the hotel sponsors throughout the year to the community at large. Steve was also recognized by Hilton in 2011 with the Spirit of Care Award, which is awarded to a select few individuals from the thousands of Hilton hotels worldwide. We'd like to extend our thanks and sincere appreciation to Steve Arnhold for his 2012 CHLA Lifetime Achievement Award. Congratulations Steve!
Steve's passion for his job, his staff management excellence and commitment to quality help make the DoubleTree by Hilton Grand Junction hotel the best it can be. The DoubleTree by Hilton Grand Junction hotel in the heart of Grand Valley and Colorado Wine Country overlooks the lush valley and famous bluffs of the Grand Mesa Plateau. Our beautiful, full service hotel is conveniently located off I-70, providing quick access to Grand Junction Regional Airport (GJT), and located nearby Bookcliff Country Club, The Golf Club at Redlands Mesa, local Colorado wineries and The Colorado National Monument. The DoubleTree by Hilton Grand Junction hotel is proudly managed by Stonebridge Companies in Denver, Colorado.
Founded in 1991 by Navin C. Dimond, Stonebridge Companies is a privately owned, innovative hotel management company headquartered near Denver, Colorado, which has developed over 60 hotels and operated more than 75 lodging properties. Currently, Stonebridge Companies is operating 42 hotels and developing 8 others comprising in excess of 7,000 guest rooms in Alaska, Arizona, California, Colorado, Nevada, New York, Utah, Virginia and Washington. The diverse portfolio includes select-service, extended stay, mid-scale and full-service hotels in primary and secondary markets. For detailed information, visit our website at http://www.SBCOS.com.