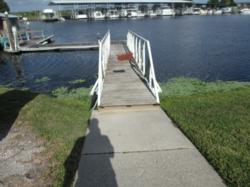 Unlicensed and uninsured contractors damage the public and legitimate contractors as well as their own employees who have no insurance coverage should they be injured on a project.
Orlando, FL (PRWEB) October 31, 2012
"Florida's current general unemployment rate of 8.7% is dwarfed by the unemployment rate for the construction trades," Fender reported. "And unlicensed and uninsured contractors are able to perform their work for a lower cost since they do not have the added costs of insurance and licensing," Fender added. "The illegal contractor's employment and income always go unreported as the contractor is paid under the table with no taxes withheld," Fender said. Rick Fender, Vice President of Fender Marine Construction in Orlando stated that Florida law requires anyone who performs marine construction on or adjacent to any body of water to carry Workers Compensation insurance with a code specific to marine construction 6006F. "All legitimate marine contractors here in Florida protect their customers by carrying this important insurance as well as liability insurance and the appropriate licensing and most are members of the Florida Marine Contractor's Association," said Fender.
Fender explained "unlicensed, uninsured and under-insured contractor activity is one of the biggest problems affecting marine contracting businesses. Unlicensed, uninsured and under-insured contracting activity causes problems for all of the unwitting home owners or developers building docks, seawalls, boathouses or marinas and the licensed and properly insured contractors throughout the State of Florida. Consumers can report unlicensed contractor activity by emailing ULA(at)dbpr(dot)state(dot)fl(dot)us or by calling the Unlicensed Activity Hotline at 1-866-532-1440.
The Department of Business and professional Regulation tries to stop unlicensed illegal contractors. The Florida Division of Insurance Fraud helps in stopping the illegal activity by investigating contractor insurance fraud. If an illegal unlicensed contractor is unwilling to acquire a license, chances are that they would not purchase insurance either.
Fender stated that the Insurance Fraud investigators have to catch the contractor or his employees working on the project. If they find that they are illegal, they will issue a "Stop Work" order and will go back in the contractor's payroll files for years to determine what the fine will be. "According to the latest Florida Department of Business and Professional Regulation statistics, in FY 2010 and 2011 out of the 1,987 unlicensed contracting activity complaints filed, only 87 of the complaints ended with a citation," Fender explained.
Fender believes the best thing that can be done to stop illegal marine contracting activity in Florida is to move the new Florida Marine Contractor's License from a Division II license to a Division I when possible.
Fender declared "If we can stop unlicensed contractor activity, the consumer will be better off, the economy will be better off and the contractors who have paid their dues by procuring the experience, the licensing and the insurance to work as professionals for the public will be better off. Everyone wins except the criminals who should not win. Crime should not pay, but until we can stop unlicensed and uninsured and under-insured contractor activity, crime does pay."
Rick Fender, VP of Fender Marine Construction located at 1201 West Jackson Street in downtown Orlando, FL and State Certified Marine Contractor SCC 131150688. Call Fender Marine Construction 24/7 at 407-481-2750 http://www.FenderMarine.com