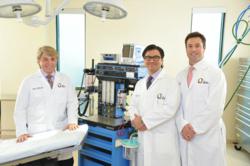 Patients should be cautious as to who is doing their injectables. Extreme examples of individuals who suffered the consequences can be seen on the internet and current popular television programs. - Dr. Russell F. Sassani
Fort Lauderdale, FL (PRWEB) October 31, 2012
Take Shape Plastic Surgery in Fort Lauderdale now has Drs. George Dreszer and Christopher J. Low performing Botox and facial fillers for cosmetic patients. Patients there are now served by plastic surgeons rather than nurse practitioners or physician assistants. This provides patients with a higher level of comfort and confidence.
Not all injectors of cosmetic fillers in South Florida are equal. It is essential that your injector is knowledgeable of facial anatomy. Plastic Surgeons operate in that area and are extensively trained to know all muscle and nerve damage that can potentially result if injections are not carried out properly. Some practices will have ancillary staff inject Botox or facial fillers into their patients. Unfortunately, some of them do not have enough knowledge to avoid causing potential problems. This is why it is important to have both the proper person and tools involved in your facial injectables.
Injectables soften lines, creases, and wrinkles, plump thin lips, and enhance shallow contours. They include Botox®, Sculptra®, Juvederm®, Radiesse® and others. These are used to treat forehead frown lines, laugh lines, and skin volume loss for a rejuvenating effect.
Take Shape Plastic Surgery is one of the few cosmetic surgery centers in Florida that has begun injecting with cannulas instead of needles. This increases safety and comfort, and decreases the chance of bleeding and bruising. The tip of the cannula is blunt or rounded and the body of the cannula is thin and flexible, making it navigate into the dermis and the subcutaneous layer rather than tear skin tissues like a normal needle does. This means nerves and vessels are simply pushed out of the way instead of being traumatized or nicked. Because fillers can be administered with greater precision, the results are more natural and less product is needed to treat most areas.
Such innovations and products paired with an experienced Plastic Surgeon to administer them, can make a large difference in the results that a patient will see. This is why it is important to make sure you are aware of who and what techniques are involved, when considering getting cosmetic fillers in Fort Lauderdale.
Take Shape Plastic Surgery P.A. is a full-service medical spa and cosmetic surgery center that offers the latest in aesthetic medicine and plastic surgery in South Florida today. They offer free cosmetic consultations.
The clinic is located at 4161 NW 5th St - Ste 100, in Plantation, Florida. For more information call (954) 585-3800 or visit http://www.TakeShape.info