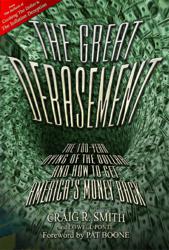 President Obama says that if re-elected he will push America over the 'Fiscal Cliff' on January 1, 2013, if he is not allowed to impose massive tax increases on businesses and those he calls wealthy.
Phoenix, AZ (PRWEB) October 31, 2012
The 2012 election could make permanent Progressivism as America's ruling political ideology, and lock in forever the economic change that began exactly one century ago with the election of 1912, says Craig R. Smith, whose latest book is The Great Debasement: The 100-Year Dying of the Dollar and How to Get America's Money Back.
The 1912 election – which ushered in the income tax and Federal Reserve System in 1913 – gave Progressive politicians nearly-unlimited power to tax, spend and borrow.
"This has produced the greatest confiscation of wealth in human history," says Smith. "Today's dollar has been debased to only two pennies of its 1913 purchasing power, and at least $222 Trillion has deceptively been taken from the American people."
"The 2012 election and 2013 'Fiscal Cliff' could complete what Progressives began 100 years ago – making their control of our government and economy permanent by addicting a majority of voters to government dependency," says Smith.
"Today 49.1 percent of American households are home to at least one person who gets government benefits," says Smith, Founder and Chairman of Swiss America Trading Corporation, a frequent guest with Fox's Neil Cavuto and other major business show interviewers.
"This November we're near the 50-50 tipping point at which more voters could be getting free goodies from government than are taxed to pay for these goodies," says Smith.
"Today 53 percent of Americans pay 100 percent of income taxes, and the rest pay no income tax at all," says Smith. "We're spiraling down into becoming a bankrupt European-style welfare state."
"If Progressives hold on to power in this November's election, they aim to recruit a majority of voters into government giveaway programs," warns Smith. "If that happens, then future elections could turn into mere bidding wars won by whomever promises the fattest government checks."
"Benjamin Franklin warned that 'When the people find that they can vote themselves money, that will herald the end of the republic," says Smith's co-author Lowell Ponte, a retired think tank futurist and investigative reporter.
"President Barack Obama's allies campaigned for his re-election with an ad that featured a Congressman Paul Ryan look-alike pushing an elderly women in a wheelchair off a cliff," says Ponte. "Yet now President Obama says that if re-elected he will push America over the 'Fiscal Cliff' on January 1, 2013, if he is not allowed to impose massive tax increases on businesses and those he calls wealthy."
"Mr. Obama is holding 300 million Americans hostage and demanding trillions of dollars in ransom," says Ponte, "or he will plunge America back into deep recession and destroy the nation's credit, not a good thing for a spendaholic government that keeps borrowing another $58,000 every second and printing more than a $1 Trillion every year more than the government brings in as revenue. This will happen if Mr. Obama wins re-election."
"If former Massachusetts Governor Mitt Romney wins, investors will look at the 'point spread,' the margin of his victory," predicts Ponte. "If that margin is small, then many investors will fear that a small Republican majority will 'move to the center' and be afraid to roll back Mr. Obama's 25 percent expansion of the Federal Government's share of America's Gross Domestic Product."
"If Republicans do not keep their promises to roll back Obamacare and other Progressive expansions of government, investors will assume that within four years Democrats will regain control of Congress and the White House – and these investors will take their money to economically freer countries."
Smith and Ponte also co-authored the widely-praised books The Inflation Deception: Six Ways Government Tricks Us...And Seven Ways to Stop It! (2011) and Crashing the Dollar: How to Survive a Global Currency Collapse (2010).
Media can request an advance digital copy of The Great Debasement by calling David Bradshaw of Idea Factory Press at (602) 918.3296.
To schedule an interview with Craig R. Smith or Lowell Ponte, call: Bronwin Barilla at (800) 950-2428 or email bkbarilla(at)greatdebasement(dot)com