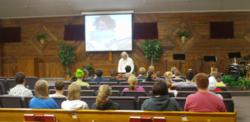 "I am so glad you so boldly tell it like it is." Pastor Ray, Calvary Chapel Seneca Falls
Canandaigua, New York (PRWEB) October 31, 2012
Nick claims, "Music is one of many voices in the world today fighting for the attention of easily influenced teenager hearts and minds. It is perhaps, the one that fights the hardest, shouts the loudest and often wins." Ron Luce, president of Teen Mania Ministries believes music is a subculture. "The sub culture sucks you in and you don't even realize it. You are being trained to think how they think, to sing the way they sing, to look the way they look, to act the way they act."
The Bible states the truth that, "Bad company corrupts good character. You become like those you hang around." (1 Cor. 15:33)
Are teenagers keeping some bad company through their music? Could it contribute to corrupting their good Christian character and values? Nick says in KISS WHAT?, "Absolutely!" He believes song lyrics can plant a wrong thought into a teenage mind that perhaps they will act on at a later date. It provides a thought that tempts them to act on in a manner that can appear harmless, fun and acceptable behavior, even though it is against what they learn in their study of God and the Bible.
When a teenager with strong spiritual beliefs acts in a manner that contradicts or disobeys what they are taught, it can hinder their spiritual growth and draw them away from what truth they believe. For the Christian teenager, it breaks God's heart and can damage how they live out their faith before others.
Nick is committed to making today's teenagers champions for God. His desire is to see today's teenager's live out their faith in a way the makes a positive difference in their world which is spiraling downhill morally and spiritually.
After a teenager reads KISS WHAT? he will grow spiritually if he puts into practice what he has learned!
Nick is a popular youth communicator. He travels North America telling his life story, delivering the hope-filled message written throughout the Bible and showing kids the way to live the life God has designed for them.
To view a promotional book trailer click here. To view chapter summaries click here.