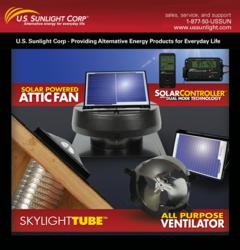 Going green is no longer an expensive proposition. As education grows about energy efficiency of buildings, it's easy to make incremental, significant home improvements by simply adding a solar attic fan or Skylight Tube.
Incline Village, NV (PRWEB) October 30, 2012
California, a state known for its dense population and energy conservation advancements, is now implementing a new set of building energy efficiency standards to take place on January 1, 2014. Requirements of the new standards include:

Solar-ready roofs for simple home improvement at a later date
Increased natural light without increasing solar heat gain
Insulated hot water pipes
Whole house fans and attic fans to reduce air conditioning loads
Proper sizing and installation of air conditioners
Almost 40% of all energy usage in the United States is consumed by buildings. U.S. Sunlight Corp has devoted its corporate philosophy to providing "Alternative Energy for Everyday Life" and provides award winning solar attic fans, with the innovative Solar Controller, and the Energy Star approved Skylight Tube as part of this philosophy. In order to make significant improvements in energy consumption, it is imperative to provide products that are affordable, easy to understand and effective at improving energy efficiency.
As the California Energy Commission states, attic fans are required in the new construction projects because they make a significant contribution to the reduction in air conditioning usage. Due to the fact most air conditioning ducting is located in the attic space, an overheated attic causes the ducting to heat as well, therefore increasing the energy used by the air conditioner. As previous studies have noted, up to 43% of air conditioning design loads are predicated on high attic temperatures. With the U.S. Sunlight Solar Attic Fans, attic temperatures have been shown to drop over 20˚F in comparison to static vents. Adding a solar powered attic fan reduces attic temperature, prolongs the life expectancy of the roofing materials, lowers air conditioning bills, and reduces mold and mildew – saving homeowners money in repairs and utilities!
Natural lighting is also key to improve the quality of lighting within the home without requiring additional electricity. A solar heat gain coefficient is the industry standard to measure the fraction of solar radiation admitted through a window, door or skylight. The Energy Star approved Skylight Tube, from U.S. Sunlight, tunnels natural light into the home with one of the lowest solar heat gain coefficients in the industry at 0.2, limiting heat entering the home through the Skylight Tube. The Skylight Tube also has a U-Factor rating of 0.37 U.S./I-P, assuring the homeowner they also won't LOSE heat through the Skylight Tube.
Robert Buckley, President of U.S. Sunlight Corp, states, "As new home builders begin to implement the new requirements set forth by the California Energy Commission, home owners of pre-existing homes can also easily improve the efficiency of their home simply by installing a Solar Attic Fan or Skylight Tube. Go to our website at http://www.ussunlight.com to get a listing of local municipality and utility rebates in California, the 30% federal tax credit form along with other states' rebate opportunities. Going green is no longer an expensive proposition. As education grows about energy efficiency of buildings, it's easy to make incremental, significant home improvements by simply adding a solar attic fan or Skylight Tube."