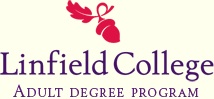 "The hybrid classes provide reassurance to the students to verify their understanding of the subject matter in a face to face forum," said Mr. Daaboul.
McMinnville, Oregon (PRWEB) October 31, 2012
Mention the word hybrid and the first thing that comes to mind for many people is a vehicle that runs on a combination of gas and electricity. In higher education the term hybrid courses refers to classes where there is a carefully planned blend of both traditional classroom instruction and online learning activities.
Linfield College Adult Degree Program provides hybrid courses in the bachelor's degrees in Business Information Systems, Management, Arts & Humanities, and International Business, through the pattern of offering mostly online courses with a few hybrid courses to successfully carry out the best of both worlds of college learning.
Hybrid courses blend both traditional classroom instruction with the flexibility of online learning. Typically half of the course is on campus and the other half is online. These courses are yet another way that Linfield's Adult Degree Program accommodates the busy student with a demanding schedule. Linfield College instructors use the hybrid class method to incorporate computer technologies, and have redesigned some in-class course content into an online learning experience with activities and group collaborations.
Malek Daaboul has been teaching continuously at Linfield College for twenty-five years. He offers hybrid courses in Statistics, Finite Math, and Calculus. "The hybrid classes provide reassurance to the students to verify their understanding of the subject matter in a face to face forum," said Mr. Daaboul. Students who enjoy the hybrid classes report these classes make it possible for them to experience the benefits of making a meaningful connection with their instructors and classmates while still being able to accomplish a majority of the coursework online.
In addition to the hybrid classes in mathematics, Linfield's Business Information Systems students participate in hybrid classes in Programming and Object Structures, Database Program Development, Software Engineering, Network and Web Applications, and Applied Software Development Project. The Arts and Humanities students take two hybrid classes in their senior year, The Senior Seminar and The Research Project, where they work closely with the professor and the librarian in conducting research and present their Senior Project to their faculty mentor.
There are many advantages for students enrolled in a college that offers hybrid courses.
Some benefits include expanding the geographical area and choice of colleges where students may enroll in degree programs in their fields of interest and improved class participation due to the expanded response time. Hybrid classes capitalize on the strengths of the majority of adult students for self-directed learning, time management and problem solving skills. With many students who have full time jobs and family responsibilities attending college these days, online and hybrid courses make it possible for more students to achieve a college education. Through active-learning assignments online, such as case studies, self-tests, tutorials and online group projects, a student is able to interact with instructors and class members in the online classroom. Because of the online aspect, students who may have refrained from participating in a face-to-face classroom may be more confident in class discussions. With more colleges offering hybrid courses, professors are reporting a high rate of success.
Hybrid courses encourage many critical skills needed in career paths and future employment opportunities, including cultivating computer skills, building competence in written communication, working successfully with instructors and class members to understand concepts and to put them into practice. In a virtual world, with more people than ever before working in environments that blend online communication with face to face interaction, online and hybrid courses enhance the essential skills needed to communicate effectively.
About Linfield College Adult Degree Program
Chartered in 1858, Linfield College is one of the first colleges in the Pacific Northwest and is regionally accredited by the Northwest Commission on Colleges and Universities. The Adult Degree Program offers adults the opportunity to earn a bachelor's degree or certificate in twelve fields of study.
Online programs offered by Linfield College Adult Degree Program include an online management degree, accounting degree, online marketing degree, social sciences degree, arts and humanities degree, RN to BSN degree and international business degree and certificates in accounting, human resource management and marketing.
Press Contact:
Janet Gifford
jgiffo(at)linfield(dot)edu
503-413-7056