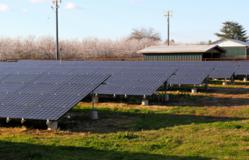 I have become a huge advocate for solar
Murrieta, CA (PRWEB) October 31, 2012
After installing solar PV on several farm related businesses in the Central Valley, California, Ambassador Energy's executives committed to supporting the Almond Board by attending their annual conference December 11-13, 2012.
"We installed a commercial solar system on Wilkey Industries' building in Turlock and a large ground-mounted system for Central Ag Products in Denair," said Steve Fulgham, CEO of Ambassador Energy, Inc. "Through those original jobs, we got familiar with the industry and friendly with the principles. It was a match made in heaven, as we are extremely comfortable in rural farming communities, having cut our solar teeth in that space. Now, years and megawatts of solar later, it is fantastic to return to those roots."
Since 1993, Wilkey Industries has specialized in providing innovative solutions through design, fabrication and installation of processing equipment in agricultural, industrial and manufacturing facilities. When asked why they had Ambassador Energy install solar PV on their 40,000 square foot commercial building, Founder and CEO, Jack Wilkey, said, "We did it for the federal tax credit. There was not a better place to be able to take advantage of the credit, while enjoying utility cost savings for decades to come. Where else can you put your money that will give you a double digit annual rate of return? I could put the same amount of money in the bank and get a half a percent. This was a no-brainer. We are very pleased with Ambassador Energy and our decision to go solar."
Dean Doerksen, of Central Ag Products, concurred, installing solar on his home, almond farm and his commercial building. "We started with a large residential ground-mounted system at the house," said Doerksen. "Then we installed solar at the farm. We decided we loved solar and the savings so much that we added it to our other business, Swenson Shear, in Ceres. I have become a huge advocate for solar and the work they do at Ambassador Energy. I tell people all the time that the folks at Ambassador Energy have forgotten more about solar than most solar companies will ever know."
"We look forward to being at The Almond Conference and spending time with our customers," concluded Fulgham. "Stop by and see us next to Wilkey Industries at booth 1016."
About Ambassador Energy
Ambassador Energy [AE] has a three-pronged business model, including Ambassador Energy College Solar Training, the Ambassador Energy Agency Program and Ambassador Energy, an EPC contractor. On staff are NABCEP Certified PV Installers, NABCEP Certified PV Technical Sales professionals [Fulgham/Kelso] and multiple NABCEP EL graduates. AE Agencies are nationwide. Ambassador Energy EPC installs PV systems throughout California.