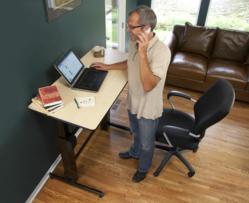 St. Paul, MN (PRWEB) October 31, 2012
Today's businesses are moving towards adaptable work environments which provide more flexibility to rapidly increase or decrease office space to accommodate the workflows of the growing mobile workforce. To address this new dynamic workplace, Ergotron is exhibiting its entire WorkFit sit-stand portfolio at the IFMA World Workplace 2012 in San Antonio, Texas, booth 563.
"Companies are starting to see the competitive advantage employee engagement gives them," said Jane Payfer, CMO at Ergotron. "Forward-thinking companies are actively seeking solutions that will grow with them, yet also excite employee engagement."
Ergotron's WorkFit line offers businesses affordable solutions—desk add-ons, free standing desks, and mobile carts—that are easy to install into existing office work spaces or for redeploying across other back office, lab, inspection, and warehouse areas, saving businesses time and money associated with office remodels or expansions. The units also are ideal for helping the new breed of telecommuters have a comfortable and safe computing environment at home.
New to IFMA this year, Ergotron's second generation WorkFit-D, Sit-Stand Desk with a dual lift engine design for greater stability and a larger weight capacity (up to 65 lbs). The desk offers 20" height-adjustment, tool-free, instantaneous motion from sit to stand, and a spacious 47.6" x 23.5" (121 x 60 cm) worksurface available in birch, cherry, or light grey. A standalone desk, the WorkFit-D accommodates displays mounted on a desk mount stand or attached desk mount arms for single or dual displays. The desk has a MSRP of US$699 and will be available mid-November 2012. The Neo-Flex® Underdesk Keyboard Tray, MSRP US$129, is sold separately as an accessory.
In Ergotron's booth, attendees can sign up for the GetOneGiveOne Sweepstakes which allows entrants to win a WorkFit of their choice and give a second unit to another workspace influencer, for example, a wellness or human resources team. Follow Ergotron's show activity on @Ergotron on Twitter or Ergotron's Facebook page.
To learn about Ergotron and its entire line of solutions, visit http://www.ergotron.com or call 800.888.8458.
About Ergotron
Ergotron, Inc. is a global manufacturer of leading digital display mounting, furniture, and mobility products that have been improving the human interface with digital displays for over 30 years. This history of innovation and passion for differentiation is evidenced in over 70 patents and a growing portfolio of award winning brands—OmniMount, StyleView, WorkFit and Neo-Flex—for computer monitors, notebooks, tablets, flat panel displays and TVs. Ergotron's products incorporate patented CF lift and pivot motion technology to achieve less effort and more ergonomic motion for a healthier and more interactive user experience when viewing any digital display. Ergotron devices are not intended to cure, treat, mitigate or prevent any disease. Whether to enhance computing wellness or entertainment excitement, improve workplace productivity or create business process efficiencies, Ergotron's products are positioning your digital world. Ergotron is headquartered in Saint Paul, Minnesota, with sales efforts in Phoenix, Amersfoort, London, Tokyo, and Singapore.