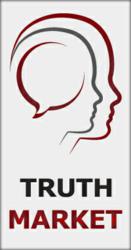 TruthMarket is offering interest groups a way to amplify their message and activate their membership base
Atherton, California (PRWEB) October 31, 2012
TruthMarket, a division of TruthSeal Corp, today announced that until December 31, 2012, qualified special interest groups are eligible for TruthMarket's free "Affinity" program. Under this program, special interest groups with strong constituencies that focus on important social, health, environmental or science issues have free use of TruthMarket's online platform to launch crowd-funded campaigns that demonstrate broad-based public support for verifiably true assertions and memorably refute false claims and misrepresentations. The free services in the Affinity program include support in setting up the campaign, a national press release, crowd-funding via TruthMarket's platform, advice and support in marketing the campaign and management of campaign challenges.
"Many interest groups feel outgunned by well-funded and well-organized adversaries when trying to correct false claims or to improve the congruency between public policy and fact," said Mark L. Feldman, a board member and investor. "TruthMarket's platform helps to even the odds," Feldman adds. "The platform is built around behavioral economics and marketing principles, including crowd-funded cash bounties that will capture attention, incentivize public debate and apply pressure for resolution."
"TruthMarket is offering interest groups a way to amplify their message and activate their membership base," notes Rick Hayes-Roth, Truth Seal's founder and CEO. "A well-run campaign should be able to reach its crowd-funding targets with high assurance, while increasing sponsors' contributions," Hayes-Roth adds. "When members participate in sponsoring a big campaign, they feel their own voice is being heard and they are part of something bigger and more effective than they can be on their own. The experience of breaking through the noise and getting your message heard above the din, frankly, is empowering."
To learn more about this free program, the FAQ and contact information can be downloaded from this TruthMarket link.
About TruthMarket
TruthMarket is a division of Truth Seal, a California Corporation. TruthMarket is designed to be a popular online platform that enables everyone to campaign for truth in public dialogue. The primary objective is to increase truth and trust throughout the public information space – online and offline – by publicly exposing false claims and highlighting true claims. TruthMarket's ultimate goal is to predispose all public dialogue toward truth telling.
Trademarks
Marketplace for Truth Telling, TruthMarket and TruthSeal are trademarks of Truth Seal Corp.