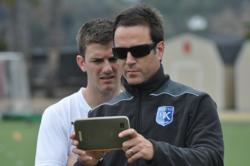 Utilizing today's technology, virtual consulting is an effective way to provide video analysis, on and off the field, training program development, and college and pro strategy.
San Diego, CA (PRWEB) October 31, 2012
Retired NFL kicker Michael Husted of Husted Kicking is offering 'virtual consulting' to help kickers, punters and snappers at every level of kicking, and from anywhere in the world, improve their kicking technique and develop a strategy to achieve their greatest kicking potential.
Even though he is located in San Diego, CA, kicking coach Husted says todays technology allows him to work with any kicking specialists regardless their location.
"Utilizing today's technology, virtual consulting is an effective way to provide kickers with video analysis both on and off the field, training program development and a college or pro strategy," says Husted. "With the quality of video cameras, YouTube, and even Facebook, exchanging information via the internet is very efficient."
Go here to learn more about Michael Husted's kicking consulting program.
Husted has a great deal of experience in both professional kicking and mixing kicking with technology.
As a kicker, his consistency on field goals and power on kick offs won him the job as an undrafted rookie in the NFL. Husted went on to have a successful rookie season where he was named to Football Digest's All Rookie team.
During his time with the Tampa Bay Bucs, Husted established several records including:
•All-time leading scorer (502 pts.)
•Longest field goal (57 yards)
•Most 50+ field goals (10)
After retiring from a successful 9 year NFL career, Husted was involved with the online start up iPlayers.net. This innovated site at the time took high school recruiting from "snail mail" to the internet.
In 2007, the company was acquired by the Active Network in San Diego, CA and Husted moved on to seek new challenges in the business world.
After working in the "corporate" world for a couple of years, Husted realized that one of his passions was helping athletes to leverage their sport for a college education.
After moving on from iPlayers.net, Husted again combined his desire to help kicking specialists and his fascination with technology and founded the National Camp Series (NCS); a national kicking program which provides both quality coaching and an 'objective' platform for high school kicking specialists.
"NCS is a platform that objectively measures kickers, punters and long snappers through statistics which takes out all subjectivity in the evaluation process," says Husted. "By sorting through over six years of historical event data, the KIX system determines a kicker's rankings by cross-referencing player data to determine how the athletes stack up against others, both presently and historically."
Husted says incorporating technology into the 'ranking' process is good for both the high school kicking specialists and for the Universities and colleges looking to recruit them.
"The NCS levels the playing field for those who don't want to get caught up in all of the 'politics' that occurs in the kicking industry," says Husted. "If you can kick, punt or snap, the NCS KIX system will let a young kicking specialist's skills speak for themselves. No excuses. No explanations."
And now with virtual consulting available, Husted says there are 'no excuses' for a kicking specialist, no matter what their level of kicking or where they are in the world, to not get quality kicking instruction.
Go here to learn more about Husted Kicking's new kicking consulting program.
Go here to learn more about kicking coach Michael Husted.
Go to Michael Husted.com for Husted's kicking blog.