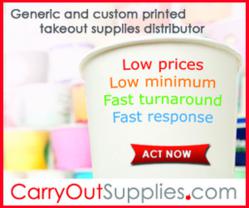 City of Industry, CA (PRWEB) October 31, 2012
The leading wholesale supplier of custom printed paper yogurt cups, plain white paper yogurt cups, and plastic yogurt spoons is expanding to better serve foodservice businesses from frozen yogurt shops to fast food restaurants to coffee shops. Business owners can now purchase products like Solo paper coffee cups and Genpak clear PET cups directly from CarryOutSupplies.com and have it shipped directly to their businesses at very low prices.
CarryOutSupplies.com is well known for selling quality products and passing on the savings through volume to their customer and offer very low pricing. The company is now aiming to make it even easier for business owners to restock essential takeout supplies by offering even more selection. Many new product categories, like paper food wraps, cup holder trays, coffee cup sleeves, and soufflé cups, have already been added to their online catalog. More products and categories are in the works to help customers get more savings, faster and better service, and wider selection.
In addition to standard generic products, the takeout supplies distributor also has robust capabilities to provide custom printed disposable supplies like frozen yogurt cups, paper coffee cups, disposable plastic cups, disposable plastic spoons, and paper coffee sleeves, with low minimum, low pricing and fast turnaround time. The company has been successful in leveraging its strong relationship with manufacturers to get its clients the best products at the best prices.
Coffee shops, delis and food-service businesses of all sizes – from mom-and-pop shops to large franchises – can learn more about CarryOutSupplies.com's selection, features and pricing by visiting the company's website. They can also be contacted by calling 888-982-1862 Monday through Friday, from 9am to 6pm (PT).
About CarryOutSupplies.com
CarryOutSupplies.com, the leader in paper and plastic disposable takeout supplies, is dedicated to offering quality products, low prices and reliable customer service. The company started serving the local marketplace in 2004 and expanded its operations in 2007 to serve nationwide demands. Throughout its history, the company has experienced growth every year by maintaining and increasing a loyal clientele, and offering competitive prices and convenience with its free custom print service for custom paper cups and custom plastic cups. Learn more at CarryOutSupplies.com.