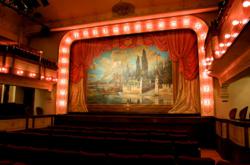 Welcome to the historic Sheridan Opera House, the crown jewel of Telluride.
Telluride, Colorado (PRWEB) October 31, 2012
Telluride, Colorado may be quiet this time of year, but the Sheridan Arts Foundation (SAF) staff is busy planning the much anticipated winter 2012-2013 lineup for the historic Sheridan Opera House. After playing host to a fantastic summer schedule of live music, events and films, the SAF is proud to announce the Opera House's first round of programming slated for the winter ski season.
Haven't been to Telluride? The town was founded in 1858 after gold and silver were discovered, Butch Cassidy robbed his first bank here, Nikola Tesla selected the site to build the world's first power plant, hippies re-settled these lands in the 60s, skiing arrived in the 70s, real estate agents invaded in the 80s, Tom Cruise, Oprah and Oliver Stone call it vacation, Tim McGraw wrote a song about it and coming up in December, the historic Sheridan Opera House (which celebrates its 100th birthday in July 2013) will kick off another exciting, event-packed season.
SAF's winter events schedule:

Nov. 23 - Kick-off concert featuring local jam band Joint Point and Friends
Nov. 30, Dec. 1-2 - SAF Young People's Theater (YPT) will perform its middle school production of "Cindy & the Saddle Shoes," a Cinderella adaptation written and directed by YPT Artistic Director Jennifer Julia
Dec. 8 - Jerry Joseph, known for his work with Stockholm Syndrome and the Jack Mormons, will play an acoustic show
Dec. 18-22 - Second Stage returns this year with its holiday play, "Every Christmas Story Ever Told" on. The play will be directed by Jeb Berrier and star Berrier, Buff Hooper and Ashley Boling
This year's Holiday Concert Series will host an eclectic mix of music and it's sure to be a successful fundraiser for the SAF, the non-profit that owns and operates the historic Sheridan Opera House. Tickets go on sale Friday, Nov. 9 for all Holiday Concert Series events.
Dec. 27 - The Holiday Concert Series begins with Peter Yarrow and Friends. Yarrow is a folk music legend, known mostly for his past work with Peter Paul and Mary, with ties to Telluride. The SAF is honored to host his return to the Telluride stage
Dec. 28 - The following evening, Grammy award winning singer-songwriter Shawn Colvin will host two acoustic performances
Dec. 29 - Get ready to dance with New Orleans soul, funk musician Marc Broussard
Dec. 30 - The Holiday Concert Series will host SAF's Vaudeville Variety Night. The year 2013 marks the Opera House's 100th anniversary and the Variety Night will kick off a year-long Centennial Celebration, with several fundraisers celebrating different eras of Telluride's Crown Jewel.
Dec. 31 - The New Years' Eve Gala will celebrate the sweet sounds of Jamaica with reggae legends The Wailers. The Gala will include a champagne toast, desserts and one of the best parties in town to ring in the New Year.
The SAF prides itself in keeping its entertainment open to all ages, and teenagers and young adults are welcome to the Gala and all concerts at the Sheridan Opera House. "It's a great opportunity for parents to visit Telluride and celebrate the New Year together with their families," said SAF Event Director Ronnie Palamar.
Jan. 3 - The Holiday Concert Series wraps up with Who's Bad, the Michael Jackson Tribute Band. This is Who's Bad's third time playing the venue and your best Michael Jackson costume is highly encouraged.
Tickets for the Holiday Concert Series go on sale on Friday, Nov. 9, 2012 at noon, Colorado time. Tickets and additional event information are available at sheridanoperahouse.com or 970.728.6363 x5. Stay tuned for many more events coming in 2013!
About Sheridan Arts Foundation
The Sheridan Arts Foundation was founded in 1991 as a 501(c) (3) non-profit organization to preserve the historic Sheridan Opera House as an arts and cultural resource for the Telluride community, to bring quality arts and cultural events to Telluride and to provide local and national youth with access and exposure to the arts through education. The Sheridan Arts Foundation is sponsored in part by grants from the Telluride Foundation, CCAASE, CCI and El Pomar.
About Telluride.com
Telluride.com is owned and operated by Telluride Alpine Lodging and a sponsor of the Sheridan Opera House and Sheridan Arts Foundation.
Media & Venue Contact
Kathrine Warren
PR/Marketing Director
970.728.6363 ext. 3
kathrine (at) sheridanoperahouse (dot) com