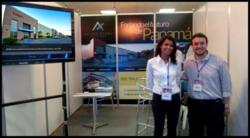 "Allied Steel Buildings is proud to be a part of this exponential growth in Panama, with several projects at the Canal Zone, including a power house with a 160 ton horizontal crane and two five story electrical/mechanical buildings."
(PRWEB) October 31, 2012
Allied Steel Buildings, a leading supplier of pre-engineered steel buildings and metal building systems, has experienced a significant increase in global operations since 2010. Over the past year, Allied Steel Buildings has created four new positions within their Latin American and Caribbean Accounts division, and internal forecasts show more positions will be created in 2013. To facilitate their global growth, the Latin American and Caribbean Accounts team traveled to Central America to build new relationships in the local community at the Expo Logistica Panama 2012.
Expo Logistica Panama is a multimodal transport exhibition that focuses largely on logistics companies; moreover, most of these companies have a need for large warehouses, aircraft hangars, and other industry specific buildings. Allied Steel's metal building systems are an ideal choice for these applications since they are capable of spanning 300 ft. wide without columns, and are cost-efficient compared to conventional-construction methods.
Allied Steel Buildings Director of Latin American and Caribbean Accounts, Chris Rucker said, "Expo Logistica was a great opportunity for us to visit and network with our existing Panama and regional clients. It was also a great way to showcase our experience to new potential clients that are either building in Panama or the surrounding region. We were happy to see that many of our existing customers stayed around and talked to the new potential clients who came by our booth. They are proud to talk about the product and service they receive from us, and we are proud to have them as part of the Allied family."
The exhibition took place at the Atlapa Convention Center in Panama City. Expo Logistica Panama recorded over 180 participants from Panama and around the globe. In addition, there were over 20 guest speakers that briefed topics from logistics to green initiatives. The expo commenced with a speech from president Porfirio Lobo of Honduras, where he addressed economic trends and the positive relations between Honduras and Panama. President Ricardo Martinelli of Panama also attended the event.
Allied Steel Buildings Project Coordinator, Laure Dubois added, "The Panama Canal expansion has been a major boon to the area and driven growth on ports around the world. The Panama Canal Authority is hard at work. They are building two new locks that will enable Post-Panamax boats to float over the 77.1km long canal. Panama is becoming a logistic hub and center for trade all over the world. The Canal gives access to 144 maritime routes each week for more than 88 countries. Allied Steel Buildings is proud to be a part of this exponential growth in Panama, with several projects at the Canal Zone, including a power house with a 160 ton horizontal crane and two five story electrical/mechanical buildings."
Panama has defied the global recession, in part due to the $5.3 billion expansion of the Panama Canal that has been under construction since 2010. Recently, the World Economic Forum ranked Panama as the second most competitive economy in Latin America. Allied Steel has already secured business opportunities within this thriving tropical paradise, by creating turnkey solutions for their community. The Expo Logistica Panama 2012 fueled new business opportunities for Panamanians and visitors alike.
Allied Steel Buildings Project Manager, Catherine Soto said, "It was Allied's first year participating in the Expo and it was a great learning experience. The new business possibilities and contacts made were priceless and it was a very successful event for Allied. As a result, we have a great new network of logistic companies, architects, and project managers to work with that are ready to forge the future of Panama."
About Allied Steel: Allied Steel Buildings is a leading supplier of pre engineered steel buildings and prefabricated metal buildings systems. At Allied Steel Buildings, we offer exceptional prefab metal structures with outstanding customer service, committed to assisting you through each step of the building process. Our projects have been completed around the world, with a concentration in the Americas and Caribbean. For assistance from our Project Managers, including design services and expert tips call 877-997-8335.