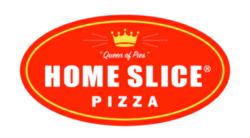 One lucky raffle ticket holder will be chosen to be the only human (or being of any kind really) to be able to RESERVE A TABLE at Original Home Slice for an ENTIRE YEAR!
Austin, Texas (PRWEB) October 31, 2012
Whether eating or standing, endurance will be the key to winning an entire year of free pizza at the charity fundraising event of the fall: the Home Slice Pizza Carnival-O-Pizza. The carnival, slated for Saturday, November 10, 2012, is a benefit for local nonprofit Austin Bat Cave and features 2 ways to win this amazing prize, courtesy of Home Slice Pizza.
Extreme Pizza Eating pits 10 carefully chosen contestants against one another to see who can eat the most pizza in 30 minutes. "I focus on the quest for accomplishment…" says four-time champion Chris Floyd. "It's something only a few people out there can actually do well."
The Hands on an Eggplant Sub (H.O.E.S) contest is exactly what it sounds like: combatants place a hand on a Home Slice eggplant sub and leave it there for as long as they can. Last person touching the sub wins. 2010 winner Lauren Shugart was touched by the camaraderie and in awe of the endurance it required, "it's all these different people who end up having a connection. And [the competition] showed me what I was made of."
The Home Slice Carnival-O-Pizza is at once a celebration of the art of hand tossed pizza, a seventh birthday party for the restaurant, and a charitable endeavor intended to give back to the community that has made Home Slice one of Austin's favorite eateries. This year's Carnival-O-Pizza will be held Saturday, November 10, 2012, from 12 to 7 PM. Austin Bat Cave is the Carnival's charitable recipient for the second year in a row. The 2011 Home Slice Carnival-O-Pizza raised over $20,000 for the local non-profit writing and tutoring center.
But wait…there's more!

The Gigantic Raffle with killer prizes like a custom made Dublin Bottling Works belt drive bicycle ($7K value), hotel stays at Hotel San Jose and Hotel Saint Cecilia, and great stuff from almost every business on South Congress Avenue. One lucky raffle ticket holder will be chosen to be the only human (or being of any kind really) to be able to RESERVE A TABLE at Original Home Slice for an ENTIRE YEAR.
Dough tossing contest where local pizzerias including Little Deli & Pizzeria, Southside Flying Pizza, Saccone's Pizza and Subs and Mellow Mushroom pit their best pizzaoli against the pros at Home Slice for the largest stretch, fastest stretch and fastest box fold.
Live performances from Big Don, Minor Mishap Marching Band, The Love Leighs, Little Stolen Moments, break dancers, graffiti artists and more.
Midway full of wacky pizza-themed carnival games featuring lots of prizes for kids of all ages.
Concessions including beer from Real Ale Brewing Company, beverages from Dublin Bottling Works, and yes, pizza from Home Slice Pizza.
Full details at Home Slice Pizza blog: (http://homeslicepizza.wordpress.com/carnival2012/ )
About Austin Bat Cave:
Austin Bat Cave (ABC) Austin Bat Cave is a 501(c)3 nonprofit organization that provides children and teenagers (ages 6-18) with opportunities to develop their creative and expository writing skills. ABC connects a diverse population of young writers and learners with a vibrant community of adult volunteers in Austin. All of their programs are free.
ABC understands that public school teachers are the hardest-working people in town. With all their programs, they strive to be a resource, mobilizing volunteers to help teachers accomplish what they might not be able to accomplish on their own.
About the Carnival O' Pizza and Home Slice Pizza:
For the past six years Home Slice Pizza has successfully hosted an all-day carnival that is uniquely Austin. The Carnival-O-Pizza is a mix of Coney Island, the San Gennaro Festival in NY's Little Italy, a circus, and a backyard carnival fundraiser.
The 2012 Carnival-O-Pizza is sponsored by STAG, Dublin Bottling Works, Real Ale Brewing Company and Gehring Co. and is staffed entirely by a pool of volunteers including current and former Home Slice Pizza employees, Austin Bat Cave tutors and pupils, and Home Slice's volunteer army of "regular" people from the community, The Pie Club.
Home Slice Pizza is an independent Austin neighborhood pizza joint serving authentic NY-style pizza – by the pie or slice – to nice people like you. Home Slice offers their homemade, hand-tossed, bona fide pies for either dine in or carry out.
Home Slice Pizza has won best pizza in the Austin Chronicle Reader's Poll every year since 2007, was named #6 overall favorite restaurant in the 2011 edition of the Chronicle poll, and has been featured in local and national press including Texas Monthly, Delta Sky Magazine, Austin Monthly, Tribeza, Austinist, Spin, and Every Day with Rachael Ray.