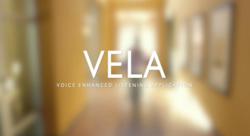 In building Vela we didn't want to just make a music player app. We wanted to make a much better music experience for mobile listening
Aliso Viejo, CA (PRWEB) October 31, 2012
Vela App Inc. is launching a first-of-its-kind app for all things music. They bring the world of On-demand music to you through voice technology and a lot of other interactive music features. The current version of Vela is 200 times faster at finding music than other music apps and saves users up to 20 button pushes on their phone per each song or artist search. In addition, Vela owns a proprietary technology; EMDA (enhanced music database assistance), which makes ordinary voice recognition smarter in reference to music. It is able to recognize unique artist names that normally would be misunderstood by even the best voice-recognition software.
Justin Mason, app creator said, "In building Vela we didn't want to just make a music player app. We wanted to make a much better music experience for mobile listening. It works the way you'd expect a music app to always work on a mobile device."
Vela can be used with the most well known, on-demand music services in the industry: Spotify, Rhapsody, and Rdio. Justin shared why it was important to include several of the most popular music services. "It took a cross-collaborative effort to integrate all of the different music services well, but we wanted our users to be fully connected by music. That meant not only including many different music services, but also the ability to share music across them on our network, and socially on Facebook or Twitter." If you build a playlist in Vela, you can send it to someone who uses a different music service than you.
Each music service is different and provides unique features that have drawn their customers to follow them. Vela seeks to connect people on the common denominator of music and provide resources to share, learn, discover, and enjoy music anywhere without limits.
Vela will be available for iPhone and provides an easy-to-use, on-the-go interface, suitable for the fluid environments in which users utilize music services the most – on mobile devices. Vela's release date is set for October 30th and will be announced at the 2012 AlwaysOn Hollywood event. Vela was selected as one of the top 25 companies to watch for 2012, which signifies leadership amongst its peers and game changing approaches and technologies that are likely to disrupt existing and entrenched Hollywood entertainment.
In tandem, on October 30th, Vela is launched it's first KickStarter campaign, entitled "The Vela Music Project", whose goal is to enhance Vela's music knowledge to surpass any other mobile music app ever built and integrate a host of new features to make it the end-all, be-all app music-expert on your phone.
Justin; "We are very excited about what is to come with Vela. We're continuing our mission to build the "all things" music app for our community of music lovers and musicians." Imagine a single app with all music knowledge, can answer any music-related question, and has the resources to give you anything music; from lyrics, to chords, to any playlist you can think of, and much more. Dubbed Vela Pro, a "Siri-like" app for all things music, is where Vela App Inc. is focusing it goals.
"We've done a lot of on research what users want and are asking for, and we think we're creating something people will enjoy," says Mason. "If you'd like to see this product be built, we need your help. I encourage you to support the "Vela Music Project" on kickstarter.com, and in return, get some cool apparel and be the first to get Vela Pro before its release to the public."