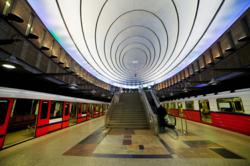 (PRWEB) October 31, 2012
Warsaw, a place that some call Paris of the North, is beautiful city located in the middle of Poland that has a lot to offer to its visitors and the travelers. It is one of the largest business centers where lots of financial activities are done. The city was completely demolished during World War II but rebuilt. One part of the city was re-modeled as an old town so it attracts much of the travelers who can catch the spirit of Warsaw before it was destroyed. Warsaw has cultural and tradition heritage. Visitors should take their chance and see the mentioned Old City that has alleys, squares and unique places that give the feeling of history. The Palace of Culture and Science is interesting place that has theatres, museum, concert hall and a cinema, after that the Warsaw Rising Museum that gives tribute to all the people who lost their lives fighting for the independence of Poland. Other interesting places are the Warsaw Zoological Garden which has thousands of animals or the sport arenas which host very interesting events.
Dhr.com offers variety of Warsaw accommodation, from budget to luxury hotels in Warsaw city centre. Radisson Blu Sobieski Hotel is 4 star hotel located near the Old Town, just outside the city center. The hotel offers very good location because it is walking minutes from the shopping area, museums and city landmarks. Polonia Palace Hotel is fascinating architecture building, located in the heart of Warsaw. This 4 star hotel is very close to the theatres, Bank Square, Golden Terraces shopping area and the beautiful parks and gardens. Another discount Warsaw hotel is 5 star Sheraton Hotel Warsaw. This hotel is most visited for business travelers because its location is very near the financial and business venues, but also convenient for people who want to take quick tour to some of the landmarks of Warsaw. From the 5 star hotels Dhr.com also has notable discounts for Sofitel Victoria Hotel Warsaw. This accommodation place is located in between many interest points such as the museums, shopping districts and galleries.
Dhr.com continues to be leading one stop shop for all travelers around the world. The company provides discount offers for hotels on 150.000 different places, tours and attractions. With this new discounts for Warsaw hotels Dhr.com is continuing its work that provides the travelers with variety of places to choose and have pleasant stay in one of the most beautiful places in Europe.