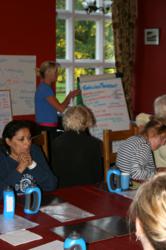 The holistic boot camp company
(PRWEB UK) 31 October 2012
The fitness boot camp company will eventually cover all the areas is UK and Ireland and workouts will be intense but also manageable.
FitParks is not like a normal fitness boot camp company as they will supply nutrition and emotional support as part of the service.
The average price in London is £55 per month and in nearly all the other UK areas the price is lowered down to £45.
Expect lots of fun at this fitness boot camp but at the same time you will get the well deserved results.
FitParks is a side product of the FitFarms weight loss retreat company that has two residential venues in the Peak District and Somerset.
The FitParks fitness boot camp attendees also receive log books where they can record their progress right up to their goal weight or fitness target.
The log book will also have a section where you can record your feelings which FitParks recognises as one of the major links to a successful programme.
FitParks also only works with the best fitness trainers in the UK. The trainers are all registered on the register of exercise professionals as level 3 or above.
The fitness boot camp trainers are handpicked by the FitParks Director and will always be outgoing, fun and very knowledgeable on fitness and weight loss.
The FitParks boot camp nutrition programme is based around balancing blood sugar levels and controlling portion sizes.