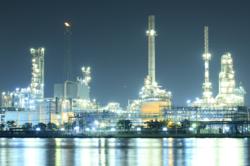 Asia-Pacific is expected to account for a massive 40% of global capacity additions through 2017
London (PRWEB UK) 31 October 2012
With a total of 24 oil refineries scheduled to come onstream over the next five years, Asia-Pacific is expected to account for a massive 40% of global capacity additions of more than 11 million barrels per day (mmbd) through 2017, according to GlobalData.
China alone will bring nine new refineries online by the end of 2017, accounting for 2.2 mmbd in total Crude Distillation Unit (CDU) capacity additions during the 2012-2017 period – more than any other country in the world and almost double that of the second-fastest growing country, Saudi Arabia, which is scheduled to add a total of 1.2 mmbd of capacity during the same time period.
GlobalData's report explains that while these additions may be aimed primarily at satisfying huge national demand, there may also be potential to benefit from the lucrative oil export market.
PetroChina and Sinopec, two of China's largest national oil companies (NOCs), will be responsible for most of the country's additional refining capacity. Sinopec plans to build two new refineries in China, one in the coastal city of Lianyungang, with an initial capacity target of 240,000 bd, and the other in Zhanjiang, with expected crude processing capacity of 300,000 bd. PetroChina aims to bring five newly-built refineries online between 2012 and 2017 in various locations, including Sichuan and Yunnan.
India comes a distant second in the region's CDU capacity additions, with 803,000 bd coming online over the next five years, while Indonesia has the next largest scheduled capacity addition, with a total of 319,000 bd.
By region, GlobalData predicts the Middle East and Africa to follow Asia-Pacific closely with 37% of the global capacity additions for 2012-2017, leaving Europe and the Americas' combined total at just 23%.