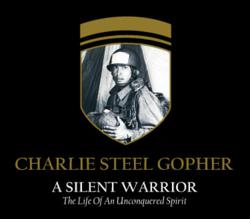 Brighton Seminole Indian Reservation, FL (PRWEB) October 31, 2012
The Seminole Tribe of Florida is proud to honor one of its fallen soldiers. Long after the passing of U.S. Army soldier Charlie Steel Gopher and after several years of tireless efforts from family members and Vietnam Veterans of America Bureau Chief, Marc McCabe, the United States Military has finally acknowledged a heroic soldier for his courage, valor and service to this great nation.
A special ceremony has been announced to pay homage and recognize Gopher, as officials will present his family with the medals that he earned during his service in Vietnam, along with military benefits that have been kept from his family for over 38 years. This event will be held at the prestigious, star-shaped, Florida Seminole Veterans Building located at 800 East Harney Pond Road, Okeechobee, Florida 34974, on the Brighton Seminole Indian Reservation, just north of Lake Okeechobee on Thursday, November 1, 2012 at 10AM.
"Through the support of some great Americans, a war hero and his family will receive the military benefits denied to them for 38 years!" exclaimed Marc McCabe, Bureau Chief of the Vietnam Veterans of America, "We were committed and up for the challenge. There was no rest in sight until we were able to get a fellow Veteran the accolades and recognition that he and his family deserve."
In attendance will be representatives of the United States Army, distinguished members of the Vietnam Veterans of America, the United States Department of Veterans Affairs, fellow soldiers that served alongside Gopher, as well as, Tribal Veterans, the Seminole Color Guard, family members and friends, to share in this memorial tribute to the late Charlie Steel Gopher.
"It was a long battle, but we won the war," said Rita McCabe, daughter of Charlie Gopher, "with the help of amazing supporters like Marc McCabe from the VVA, we were able to achieve the recognition that my father deserves for his service to this country. It is not very often that the United States Military reverses a decision that they have made, but we are very excited that the world will know the true story and life of Charlie Gopher, all in an effort to keep his memory alive for those of us that truly knew him."
To read more about this amazing journey: http://seminoletribune.org/seminole-veteran-charlie-gophers-discharge-status-rectified/