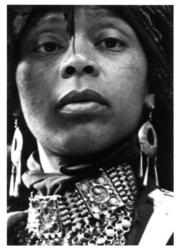 Atlanta, Ga. (PRWEB) October 31, 2012
WHAT:
The Spelman College Museum of Fine Art, in collaboration with NBAF, presenters of the National Black Arts Festival, will host a conversation with artist Chakaia Booker. Widely acclaimed for her abstract sculptures made of intricately woven, layered, shredded, and curled rubber tires, Booker will discuss topics ranging from Black identity to urban ecology.
Booker is one of seven artists included in the Spelman exhibition "Material Girls: Contemporary Black Women Artists," on view through Dec. 1, 2012. The exhibition explores the innovative ways that Black women artists fuse fine art and craft. The seven artists featured in the exhibition have created three-dimensional works that exemplify the value of organic and man-made elements. Using delicate and resilient materials ─ including hair, beads, tissue paper, volcanic stone, rubber tires, and plastic ─ the artists have built monumental sculptures, shaped richly textured surfaces, applied intricate handiwork, and created provocative assemblages.
The conversation, with Andrea Barnwell Brownlee Ph.D., director of the museum, will be preceded by a reception. Both events are free and open to the public; however, capacity is limited and registration is required.
"Material Girls: Contemporary Black Women Artists" was developed and organized by the Reginald F. Lewis Museum of Maryland African American History & Culture. The exhibition is curated by Michelle Joan Wilkinson, Ph.D.
WHO:
Presented by the Spelman College Museum of Fine Art and NBAF, presenters of The National Black Arts Festival
WHEN:
Wednesday, Nov. 7, 2012
Reception: 5:30 p.m.
Welcome, Remarks and Conversation: 6:30 p.m.-7:30 p.m.
WHERE:
Spelman College Museum of Fine Art, Camille Olivia Hanks Cosby Academic Center, 350 Spelman Lane, Atlanta 30314
GPS street address: 440 Westview Drive SW, Atlanta 30310
WHY:
"Material Girls: Contemporary Black Women Artists" honors the Museum's unique mission to focus on art by and about women of the African Diaspora.
NOTES:
Join the virtual conversation for "Material Girls" on Twitter at #OhMG!
About Spelman College Museum of Fine Art
The Spelman College Museum of Fine Art provides a learning environment for students, faculty, staff, and alumnae. Museum activities enhance the cultural and intellectual development of the College's community through the collection, preservation, exhibition, and interpretation of important works of art. Artists affiliated with the Atlanta University Center are of particular interest. As the only museum in the nation that focuses on works by and about women of Africa and the African Diaspora in its collections, exhibitions and programs, the museum serves as a complement to local, regional, national, and international art resources.
About NBAF
NBAF is a cultural leader renowned worldwide for showcasing the very best of the culture of the African Diaspora for more than two decades. NBAF's mission is to engage, cultivate and educate diverse audiences about the arts and culture of the African Diaspora and provide opportunities for artistic and creative expression. In addition to the National Black Arts Festival, NBAF offers comprehensive educational and humanities programs throughout the year, with the intent of providing a unique opportunity to promote understanding between diverse communities utilizing art and culture. NBAF presents artists from the African Diaspora in all arts disciplines and presentation formats. NBAF hosts more than 300,000 patrons each year and serves more than 25,000 children through the Children's Education Village, the Coretta Scott King Awards Book Fair, and through many other public and school-based programs. The U.S. Congress recognized NBAF for its importance to "the cultural fabric of greater Atlanta and all of America" and the highly acclaimed National Black Arts Festival as "the premier festival of its kind in the United States" (H. Res. 1286).
About Spelman College
Founded in 1881, Spelman College is a highly selective, liberal arts college widely recognized as the global leader in the education of women of African descent. Located in Atlanta, Ga., the college's picturesque campus is home to 2,100 students. Outstanding alumnae include Children's Defense Fund founder Marian Wright Edelman; Sam's Club CEO Rosalind Brewer; JPMorgan Chase Foundation President Kimberly Davis; former acting Surgeon General and Spelman's first alumna President Audrey Forbes Manley; Harvard College Dean Evelyn Hammonds; author Pearl Cleage; and actress LaTanya Richardson Jackson. For more information, visit http://www.spelman.edu.
###