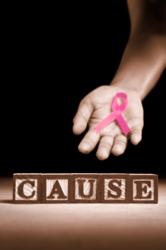 Besides technical and financial aspects, the market for predictive gene testing depends upon the likelihood of perfectly healthy people taking a test that may predict a susceptibility to cancer
(PRWEB UK) 31 October 2012
As we come to the end of Breast Cancer Awareness Month, new market analysis conducted by leading healthcare intelligence provider GlobalData on the future of predictive gene testing for the disease discusses how these tests are set to alter the market landscape for pharmaceutical companies, while offering insight into the likelihood of such tests to gauge future risk of cancer proving popular with the masses.
In its analysis, GlobalData states that around 210,000 women in the US are diagnosed with breast cancer each year, with around 10% of cases being related to an identifiable inherited gene mutation, the most common being the BRCA1/2 mutation. This accounts for about 15% of inherited breast cancer cases, with the incidence rising dramatically among certain ethnic groups such as the Ashkenazi Jews. Predictive gene tests, such as Myriad Genetics' BRACAnalysis, can help identify at-risk women, and most clinical guidance recommends such testing for women who already have breast cancer, or have a heightened risk due to a family history of cancer. But besides technical and financial aspects, the market for predictive gene testing depends upon the likelihood of perfectly healthy people taking a test that may predict a susceptibility to cancer. Do people want to test for a life-changing disease when they are currently well?
The gene testing market may be maturing, as Myriad Genetics finally returns a profit after burning through nearly $500m over 17 years, and the company now seeks to expand its BRACAnalysis test into the European market by establishing a new testing center in Munich.
Dr. Andrew S. Thompson, GlobalData's senior analyst covering in vitro diagnostics, explains that Myriad Genetics provides the most popular commercial test for the BRCA mutation, as the exclusive provider of the comprehensive BRCA1/2 test within the US, BRACAnalysis.
"BRACAnalysis accounts for over 85% ($422m) of Myriad Genetics' revenues, some 150,000 tests a year, most of them in the United States", states Thompson. He continues, "Myriad has plans to expand its testing capabilities into other regions, especially the European Union, signaled by the opening of its Munich testing facility in March, which promises dramatically improved test turnaround times, reducing from 6 months to 2 weeks. In Europe, around 30,000 BRCA gene tests are conducted annually, a small fraction of the total number of European women who are BRCA1/2 carriers."
Thompson also suggests that two factors to consider for Myriad's success are the cost of the test, and people's willingness to be tested. As European healthcare is largely socialized, the importance of costs will be determined by clinical efficacy, as the test must represent good value to funding governments. Europe has a far more crowded BRCA testing market than the US, with monopoly state-funded testing laboratories such as the UK's Genetic Testing Network existing alongside private companies such as Centogene in Germany. These companies increasingly offer next-generation sequencing technologies which dramatically reduce costs. In contrast, Thompson states, Myriad still places its faith in Sanger genomic sequencing, contending that their 30% accuracy rate, compared to a typical EU test accuracy of 3%, is worth the money for the increased accuracy offered.
Individual resistance, or reluctance, to testing may be a bigger barrier. Thompson cites Emily Oster and others in the American Economic Review, who recently found that the uptake rate of a predictive gene test for the neurodegenerative disorder Huntington's Disease (HD) was less that 10% in individuals identified as displaying symptoms associated with HD. Meanwhile, 60% cited their preference for what Oster called "living with uncertainty", choosing not to know, and avoid inevitable lifestyle changes and altered outlook on life.
Thompson concludes, "Individuals may well choose to ignore a family history of breast or ovarian cancer, and avoid the BRACAnalysis test. However, while the HD test gives certainty, the BRCA1/2 test only indicates susceptibility to the disease, and positive steps can be taken by breast cancer mutation carriers to lower their risk of disease occurrence. Therefore, pre-test genetic counseling may play a vital element of the testing process, educating the individual as to the meaning of the test outcome."