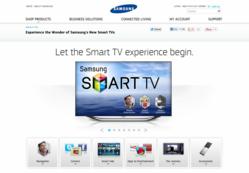 We brought to life that same moment of wonder Samsung Smart TVs do when they connect to people's passions.
Austin, TX (PRWEB) October 31, 2012
When Samsung Consumer Business Division (CBD), the consumer products division of Samsung Electronics, wanted to launch its ES8000 Smart TV at CES 2012 the global innovator turned to Austin-based digital-centric marketing agency nFusion to collaborate on the creation of the online promotions for the product.
The result was a W3 Gold-winning campaign executed through a variety of online creative designed to give consumers a better feel for the Smart TV's Smart Interaction, Smart Content and Smart Evolution. The campaign combined a product-exploring website, rich media banners and enlisted the help of Internet sensation iJustine on pre-roll and a unique Facebook tab, where she shared with viewers her excitement for Smart TVs and their many features.
"The Smart TV is a truly remarkable example of Samsung innovation," says nFusion creative director Khoa Le. "When we demo'd the TV we were simply blown away. The challenge was to figure out a way to bring to life that same moment of wonder in the online executions, and our entire nFusion team is honored to have collaborated with Samsung on a successful campaign that was able to do just that through real-life use cases that connect with people's passions."
Samsung Smart Interaction offers an intuitive and easy-to-use way for consumers to interact with their Smart TVs, featuring voice navigation, gesture control and face recognition, as well as innovative ways to explore and locate Smart Content. The online campaign gave visitors an immersive experience, showcasing aspects of the high levels of engagement consumers can have, while educating them about all of the latest features of the line.
About Samsung Electronics Co., Ltd.
Samsung Electronics Co., Ltd. is a global leader in semiconductor, telecommunication, digital media and digital convergence technologies with 2011 consolidated sales of US$143.1 billion. Employing approximately 206,000 people in 197 offices across 72 countries, the company operates two separate organizations to coordinate its nine independent business units: Digital Media & Communications, comprising Visual Display, Mobile Communications, Telecommunication Systems, Digital Appliances, IT Solutions, and Digital Imaging; and Device Solutions, consisting of Memory, System LSI and LED. Recognized for its industry-leading performance across a range of economic, environmental and social criteria, Samsung Electronics was named the world's most sustainable technology company in the 2011 Dow Jones Sustainability Index. For more information, please visit samsung.com.
About the W3 Awards
The W3 Awards honor creative excellence on the Web and recognize the creative and marketing professionals behind award-winning sites, videos and marketing programs. The W3 Awards are the first major Web competition to be accessible to agencies of all sizes and is sanctioned and judged by the International Academy of the Visual Arts, an invitation-only body consisting of top-tier professionals from a "Who's Who" of acclaimed media, interactive, advertising and marketing firms. For more on the W3 Awards, please visit w3award.com.
About nFusion
nFusion is an integrated digital-centric marketing agency headquartered in Austin, TX that partners with marketing change agents to revitalize brands, transform their digital presence and accelerate sales. The full-service agency partners with a wide range of B2B and B2C clients across all verticals. nFusion's work balances traditional media with the latest digital capabilities, always geared to generate results. Clients include AMD, Anheuser-Busch/InBev, BJ's Restaurants, CiCi's Pizza, Comerica Bank, Samsung, Sonus Networks and Zimmer Spine. nFusion can be found online at nfusion.com. Find us on Facebook at facebook.com/nfusion; tweet us at twitter.com/nfusion.