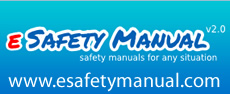 Just want to thank you for solving my problems at such a reasonable price. Our safety plan has passed scrutiny by reviewers in all situations. Thanks again!
Pensacola, Florida (PRWEB) October 31, 2012
eSafetyManual.com, one of the top providers helping companies handle their workplace safety, now provides a new submission service to submit required information to ISNetworld®, PEC Premier®, PICS® Auditing and others. The new submission service includes the cost of the safety programs or safety manual, as well as the cost of the actual submission of the required products. The company is the ultimate recourse for small businesses that find it difficult to understand the strict and complex safety guidelines required, providing easy to comprehend, cost-effective, and customized safety manuals showing their devotion to workers safety.
The safety manuals designed by eSafetyManual.com team are in an easy-to-read MS Word format for any kind of revision, editing, modification needed to easily incorporate the updated OSHA regulations and changing needs of the company. eSafety Manual is like a life saver for most businesses that seek to demonstrate their deep concern for and commitment to workers safety, helping them avoid potential OSHA citations and costly OSHA fines, meeting regulatory standards; lower risk of worker injuries, thus reducing workers' compensation costs; avail discount on workers' compensation premiums; and keep workers safe and healthy.
The eSafety OSHA compliant safety manual is a comprehensive guide on workplace safety programs, procedures, rules, and policies, guiding clients as to how to courageously deal with an OSHA representative at their workplace in the event of an accident or mishap, convincing them about ensuring "safe and healthful" workplace conditions and safe work habits under Labor Code Section (4600).
"Just want to thank you for solving my problems at such a reasonable price. Our safety plan has passed scrutiny by reviewers in all situations. Thanks again!," says one happy customer Mary.
Another satisfied customer, Robert from Bridges Construction Services, Inc., California, is all praise for eSafety Manuals and says, "Thanks for all the helpful and fast assistance with making my company Cal OSHA compliant. Their new guidelines are very strict and sometimes hard to understand. I was under a deadline to meet their regulations and your IIPP was a life saver. I will recommend your services to all contractors I know and will continue to utilize your services for all my future safety and compliance issues."
Free Stuff on eSafety Manual
eSafety Manual.com offers clients lifetime access to multiple safety meeting topics in MS Word format that can be used to conduct regular documented safety meetings. The company allows clients the option to download OSHA 300 forms, besides a free employee handbook template in MS Word format that can be easily customized to meet their respective needs and train employees in safety.
eSafety Manual.com is a one-stop online safety manual shop, designing Workplace Safety Manuals for hazardous occupations, General Contractor Safety Manuals, and Construction Safety Manuals and laying the groundwork for a company's occupational safety and health efforts while eliminating any workplace hazards. The company has all the resources, skills, knowledge, and techniques to design IIPP or custom safety manuals, catering to the specific needs of clients. The company backs its products with a return policy and issues a refund or voids the purchase if the client shows dissatisfaction with the final product.
For more information on eSafety Manuals and how you can benefit from the services of the company, please visit http://www.esafetymanual.com/.