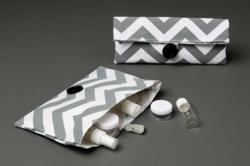 Potomac, MD (PRWEB) October 31, 2012
The average shopper spends $650 on gifts during the holiday season. Why not double the "value" by purchasing socially conscious products? The WINK Bags Holiday Conscious Shopper Challenge is a chance to make a huge impact on the world while doing something one would normally do anyway!
WHO: When in Need of Kindness (WINK) Bags & all holiday shoppers
WHAT: The WINK Bags Holiday Conscious Shopper Challenge: Take the challenge to purchase only socially conscious products this holiday season. Share the socially conscious product finds and stories on WINK's Facebook and Twitter pages so other's can take the challenge too. Get the word out about all of the socially conscious shopping products out there! https://www.facebook.com/WinkBags and on Twitter @laurametro.
WHEN: November 1, 2012 - December 26, 2012
WHERE: Across the US
WHY: Consumers are already purchasing products for the holidays; why not make a positive impact on the world at the same time?
More info on WINK Bags:
A mother inspired by the near death drowning of her three year old son, created "When In Need of Kindness" (WINK) toiletry bags. When one buys a WINK bag, one bag will be donated to The Ronald McDonald House Family Rooms. WINK is the only product of its kind and at an affordable price point of $25. A WINK bag is a unique and meaningful gift.
The story behind WINK: At 11:00 AM on June 18th last summer my three year old son Clay almost died by drowning in a community pool. Our best friends were watching him and our six year old daughter Maison. We arrived on the scene to our daughter running out of the pool screaming, "I think Clay died!" "I think Clay died!" We came in to find Clay, lying on the pool deck, blue, lifeless, with no breath or heartbeat. It was an absolutely horrific event with a beautiful ending. Our son survived to make a miraculous recovery. My website has the entire story http://www.winkbags.com
WINK sells fashionable toiletry bags with fun products inside. When one buys a WINK bag, one bag (filled with the basic toiletries) will be donated to Ronald McDonald House Family Rooms across the U.S. If a parent is in that room, things are not good. These basic necessities can help them through a time when they are confronted with a critically ill child. When In Need of Kindness. A loving WINK. Isn't that all we really need? A knowing smile, acknowledging nod or a comforting wink during tragedy or just everyday life. Life can be hard. We all need some kindness everyday. The entire story http://www.winkbags.com
# # #