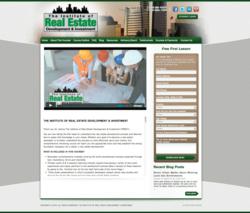 We are excited to see this website go live, it has been a collaborative effort by our entire team
Atlanta, GA (PRWEB) October 31, 2012
The Institute of Real Estate Development & Investment is an online, interactive, educational website geared towards real estate professionals who want to learn to become real estate developers. The ecommerce website is built on a content management system and boast features such as a student login, student forum, automated email marketing and interactive videos.
"We are excited to see this website go live, it has been a collaborative effort by our entire team", stated Joel Black, owner at Black Bear Design. "Its was an idea that came to life right before our eyes!"
This course, "The Real Estate Development Process," is based on Howard Zuckerman's successful book, "Real Estate Development Workbook and Manual."
This 700-page book has sold more than 50,000 copies over the last 20 years and has been used in many of the top universities and trade associations. To quote Trammell Crow, "Your book, your 'college graduate course' is matchless. I have used it for review, for reference, and have placed it permanently on son Trammell's desk."
With more than 35 years of experience in the real estate business, Zuckerman has transitioned his popular book into this comprehensive online course, designed for those individuals who want to learn the real estate development process to further their ambition in the development business or to better assist their developer clients.
Each section contains written text, graphics, checklists, charts, audio presentations from seasoned professionals and financial software. The course also includes a discussion board where students can find answers to their questions.
In addition to the "Real Estate Development Process" course, The Institute of Real Estate Development & Investment also features a wealth of data resources that can assist the process in reviewing the market for real estate developments. Information such as construction costs, investment property data, mapping services, municipal code locator, site plan design and more can be found on the website.
For information, please see the IREDI website at: http://www.iredi.net or contact 855-884-7334.
###
Founded in 2004, Black Bear Design Group, Inc. is a full-service design and marketing firm that creates integrated solutions including internet marketing, social networking, print collateral materials, logo design, graphic design and web development. For more information, please visit http://www.blackbeardesign.com