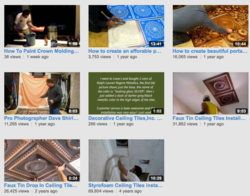 (PRWEB) October 31, 2012
Decorative Ceiling Tiles has set up a YouTube Channel (http://www.youtube.com/user/jarmil20037/videos?view=0) that features instructional videos for do-it-yourself ceiling tile installers as well as painters and photographers.
Basic instructional videos include installing faux-tin glue-up tiles, installing a drop ceiling with faux-tin drop-in tiles, and installing glue-up styrofoam tiles, even over a popcorn ceiling. Instructions are included for measuring and cutting tiles of both types of material.
The latest video features President and CEO Milan Jara demonstrating how to paint crown molding strips in just under two minutes per coat.
The channel also includes videos from satisfied repeat customers, such as professional photographer Dave Shirley showing how to quickly and easily create a photo backdrop using a variety of beautiful ceiling tile designs. That video is at http://www.youtube.com/watch?v=mGR8BozQYEU&feature=plcp.
All videos, along with their "comments" sections, include tips and tricks to make installing decorative ceiling tiles faster and easier, such as how to trim tiles to fit around light fixtures and ceiling fans and which types of glue and paint work best.
Additional information and more instructional videos can be viewed on the DCT website at http://www.decorativeceilingtiles.net/pages/Ceiling-Tiles-Installation.html.
With headquarters in Florida and distributors and installers throughout the United States and select overseas locations, DecorativeCeilingTiles.net is the online leader in the sales of decorative ceiling tiles.
# # #
For more information or to schedule an interview, contact Milan Jara, President, Decorative Ceiling Tiles, at 754-367-8349 or 866-297-0380.