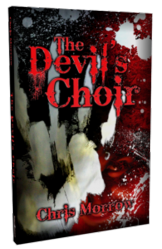 I wanted to include the excitement and spirit of Halloween in 'The Devil's Choir.'
Homen, WI (PRWEB) October 31, 2012
As Americans get ready to done on their scariest costumes for Halloween, Chris Morrow, author of "The Devil's Choir," ($4.99 USD) wants all to know that horror takes no boundaries. This is partially why he chose a fictitious college town as the backdrop for his book.
The story revolves around two primary characters, Melanie Elarton, a young college student with some unique abilities, and Ari, an investigator with an interesting past. The bulk of the story takes place in present day in a small town in rural Kansas.
To keep readers at the edge of their seats, the plot of "The Devil's Choir" comes to a head on the night of the town's annual Halloween masquerade ball.
Although what happens at the masquerade ball will remain a secret at the moment, Morrow said Halloween has always been one of his favorite annual events.
"I've always loved Halloween. I guess it goes back to when I was a child and my mom would take me trick-or-treating all over our little Midwestern town. It was fun and at the same time a little creepy, the big kids in their scary costumes; knocking on doors, never knowing who was going to open them. Then in high school it was hayrides and scavenger hunts. I wanted to include the excitement and spirit of Halloween in 'The Devil's Choir,'" Morrow said.
Learn what happens to Melanie and Ari by reading the ebook version of "The Devil's Choir," now available on Kindle and Smashwords. Versions of the e-edition are planned for release on Kobo, Sony, Apple and Nook, said Anthony Horvath, executive director of Athanatos Christian Ministries (ACM).
Morrow is one of the authors in the Bard and Book community, the home of some of his other short stories in the horror genre.
"The Devil's Choir" won second place in ACM's annual Christian novel contest. ACM also hosts short story, poetry, and children's book contests.
The print edition of the novel is set for release Jan. 18, 2013, and is available for pre-order at devilschoir.com.