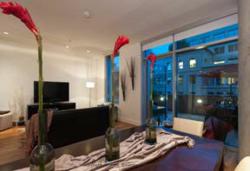 SugarCube's all-inclusive building is also centrally located in Lodo—which easily secured the property a Walk Score of 97
Denver, CO (PRWEB) October 31, 2012
Tucked away in lower downtown Denver is an apartment building that puts the phrase, 'living in the lap of luxury' to shame. SugarCube Luxury Apartments bring urban living to a new level. This affluent apartment community recently launched an impressive new website to compliment the building's many amenities and features. The site clearly organizes each with a clean, easy to navigate interface.
Designed by world renowned architect Bruce Kuwabara, these luxury Denver rentals bring a transcendent design and premier interior finishes to Colorado renters. SugarCube offers their clients a whirlwind of services that include a concierge/personal assistant service, an athletic club, a fully equip spa, salon and fitness center, a collection of top-rated gourmet restaurants, underground gate parking, onsite storage, 24-hour security. With amenities like these, renters can be sure they are getting an exclusive and quality experience.
Finding a superior apartment can be difficult. Finding a superior apartment in the perfect location can be near impossible. Look no further. SugarCube's all-inclusive building is also centrally located in Lodo—which easily secured the property a Walk Score of 97. The Denver luxury apartments are one block from Union Station and within walking distance of 16th Street Mall and the Denver Pavilion to name a few. And offer nearby activities like the Denver Performing Arts Center, Denver Recreation Center and the Denver Trails.
Corporate and individual renters alike can appreciate the sublime features that SugarCube has put into its building. Managed by the incomparable Urban Villages Inc., these Lodo rentals have 37 unique apartment options with available units listed and consistently updated on the website. SugarCube also offers class AA office space within building making it an ideal corporate rental choice for professionals and businesses. The idyllic neighborhood, location and structure make SugarCube a renters dream.
The new site has already seen a significant traffic and is the perfect recourse for leasing and building information. Their service professionals are also always available to answer any leasing inquiry. SugarCube Buildings has received such awards as the Denver Major's Design Award, the University of Denver's "Design of the Year" Award and the Gold Hard Hat Award to name a few.
For More Information: http://www.sugarcubebuilding.com/