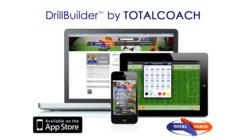 TotalCoach is proud to engage with the coaches of Canada.
San Jose, CA (PRWEB) October 31, 2012
TotalCoach is pleased to announce sponsorship of the Sport Leadership Sportif Conference being held at the Hyatt Regency in Montreal, Canada November 8 – 10, 2012. The top minds in Canadian and International sport, business, and education communities will engage in the Conference.
"TotalCoach is proud to engage with the coaches of Canada." said Dean Tait, Founder, TotalCoach. "We are committed to creating an online network for Coaches, so it is important to play a role in real-world networking."
TotalCoach will be displaying the DrillBuilder App for Soccer, Hockey and Basketball available for iPad and iPhone. Using industry-leading technology, DrillBuilder allows coaches to create fully-animated, multi-player movement practice drills and game plays. TotalCoach's secure cloud-based storage and backup ensures that coach's have anytime, anywhere access to their PlayBook.
About TotalCoach:
Founded in 2011, TotalCoach's mission is to instill a lifelong love of sport in athletes by providing amateur sport coaches with the latest technology tools to make them more efficient and effective. By providing a better coaching experience, TotalCoach promotes LTAD (Long-Term Athlete Development) and creates a life-long love of sport in young athletes. Staying active and participating in team sports plays a large part in a person's development and a healthy lifestyle.
Copyright (C) 2011-2012 TOTALCOACH, LLC. All Rights Reserved. Apple, the Apple logo, iPhone, and iPod are registered trademarks of Apple Inc. in the U.S. and/or other countries. Other trademarks and registered trademarks may be the property of their respective owners.