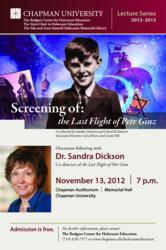 Orange, Calif. (PRWEB) October 31, 2012
Chapman University's Rodgers Center for Holocaust Education will present the California premiere of an award-winning new documentary film, "The Last Flight of Petr Ginz," in Memorial Hall on Tuesday, November 13 at 7 p.m. The film's co-director, Sandra Dickson, will be present for the screening and will participate in a discussion following the film with Marilyn Harran, Rodgers Center director and Stern Chair in Holocaust Education, and Jeff Swimmer, associate professor of documentary film in Chapman's Dodge College of Film and Media Arts. Admission is free, and the public is invited to attend. For more information, call 714-532-7760 or visit http://www.chapman.edu/holocausteducation.
"The seed of a creative idea does not die in mud and scum. Even there it will germinate and spread its blossoms like a star shining in darkness." These are the words of Petr Ginz, who, before he died at age 16 in the gas chambers of Auschwitz, had created more than 150 drawings and paintings, written five novels, penned a diary about the Nazi occupation of Prague, written numerous short stories, and edited an underground magazine in the Terezin ghetto.
Inventively combining animation, art and live action, along with historic photographs and film, "The Last Flight of Petr Ginz" is as original as Petr himself. "It celebrates a boy whose imagination soared beyond ghetto walls, and whose work represents humanity at its best," said Harran.
Sandra Dickson, who co-directed the film with Churchill Roberts and associate directors Cara Pilson and Cindy Hall, is an award-winning filmmaker whose documentaries on human and civil rights have aired nationally on PBS, including a premiere on the acclaimed "Independent Lens" series. She teaches at Wake Forest University.
"The Last Flight of Petr Ginz" was first screened at the United Nations and since then has been shown at major film venues and festivals around the world. In addition to its California premiere at Chapman University, the film will screen in November at the Hong Kong Jewish Film Festival and the 16th Annual U.K. Jewish Film Festival in London.
ABOUT CHAPMAN UNIVERSITY:
Consistently ranked among the top universities in the West, Chapman University provides a uniquely personalized and interdisciplinary educational experience to highly qualified students. Our programs encourage innovation, creativity and collaboration, and focus on developing global citizen-leaders who are distinctively prepared to improve their community and their world. For more information, visit http://www.chapman.edu.
Follow us on Facebook: Chapman University Facebook
On Twitter: @ChapmanU
On YouTube: Chapman University YouTube Channel
###